Advent - Time to Reflect and Relive the Christmas Story......
Catholic Communications, Sydney Archdiocese,
30 Nov 2012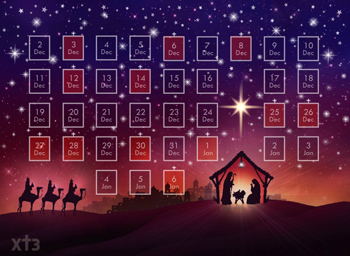 Social networking site Xt3's famous Advent Calendar has even more bells and whistles this year to encourage reflection on the true meaning of Christmas.
In the non-stop rush of parties, last minute shopping, office lunches and the rest of the frenetic lead up to Christmas it is easy to forget this. But for anyone of faith, Advent is a time to remember and reflect on the birth of Our Saviour and to relive the Christmas Story.
To help us do just that, for the fourth year in succession Xt3 has created an interactive Advent Calendar which offers daily multimedia resources that includes inspiring homilies via podcast; exciting new video material; audio reflections recorded by Bishop Peter Comensoli, Auxiliary Bishop of Sydney; Q&A's on Catholic teachings and apologetics; and much,much more.
Kicked off with a special Youtube promotion featuring a Gangnam-style Santa, Xt3's Advent Calendar for 2012 is easy to access across the entire new media spectrum.
Available via apps for apple or android smart phones, or via iPads, tablets, PCs or shared through Facebook and Twitter accounts, this year's Advent Calendar offers a unique and very special way to embark on your own personal Advent journey, as well as a chance to share this journey and the meaning of Advent with family and friends.
"The Calendar is designed to be shared in a way that is fun and effective. This is what we have been asked to do in this Year of Faith and the Calendar offers us new and exciting ways to promote Christ," says Mary Elias, Content Manager and Administrator of Xt3, one of the most popular and fastest growing social networking site for Catholics worldwide.
This Sunday, 2 December marks the first Sunday in Advent and the beginning of the new liturgical year. For Catholics the first Sunday in Advent is regarded as the Church's New Year's Day and ushers in a wonderful period of expectancy culminating in the birth of Christ on 25 December.
Advent itself means "arrival" or "coming" and is a period of preparation that extends over four Sundays before the Feast of the Nativity. While this is a time of immense joy it is also a time for reflection on our faith, prayers, fasting and penance.
The joy of this period is the delight and excitement of Our Lord's arrival on Christmas Day while the period of prayer, fasting and penance comes during three weeks prior as we strive to be spiritually ready to receive such a wondrous gift.
Xt3 created its first interactive Advent Calendar in 2009 and received an overwhelming response. Each year as technology has advanced, Xt3 has added more multimedia resources for users. Last year was the first year there was an app for the calendar which was instantly picked up and used by more than 1000 people from across Australia as well as countries world-wide.
This year marks the first time the calendar has had such a wide range of multimedia resources and also the first time the calendar has been available and easily accessed by the latest ipad, iphone and other devices.
To access Xt3's Advent Calendar go to: http://www.xt3.com/advent/
For Android Apps: https://play.google.com/store/apps/developer?id=Xt3.com
For iPhone & iPad Apps: https://itunes.apple.com/au/artist/catholic-communications-archdiocese/id477943125
For Xt3's Advent video promo experience featuring a Gangnam Style Santa go to http://www.youtube.com/watch?v=vhBB5bwuzl4