Mitch and His Didgeridoo a True Celebration of Faith
Catholic Communications, Sydney Archdiocese,
30 Jun 2011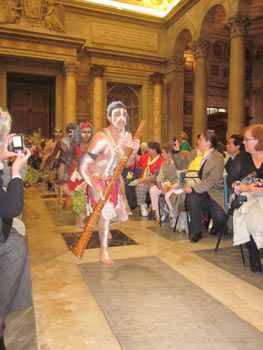 Uni student, star footballer and member of the Archdiocese of Sydney's Aboriginal Ministry, Mitch Firth is known as "Didge" to his mates.
Well-known for his expertise on the didgeridoo and as a performer and Aboriginal dancer, 21-year-old Mitch is in constant demand for Welcome to Country ceremonies, special indigenous events and by various corporate and business leaders for international conferences.
As an 18-year-old he was one of the Aboriginal dancers at Sydney's World Youth Day spectacular dramatised production of the Stations of the Cross in 2008, and last year shared the Sydney Opera House stage with country star John Williamson and the Sydney symphony orchestra.
Now, as Mitch prepares to celebrate Aboriginal and Torres Strait Islander Sunday this weekend, he admits he is full of excitement about his next World Youth Day.
Mitch, along with his didgeridoo, is joining a group of young indigenous pilgrims from the Sydney Archdiocese for WYD11 in Madrid. Leading the group on this very special pilgrimage will be Graeme Mundine, one of Australia's best-known and respected Aboriginal elders.
Graeme, who is also Executive Officer for Sydney's Aboriginal Catholic Ministry knows Mitch well and the pair travelled to Rome together last year to be part of the canonisation celebrations for St Mary of the Cross MacKillop.
For Mitch the trip to Rome in October last year was an unforgettable experience. He found himself dancing and playing the didgeridoo as part of the many indigenous ceremonies held in Rome to celebrate the canonisation of Australia's first saint.
Chosen to represent NSW by the National Aboriginal and Torres Strait Islander Catholic Council (NATSICC), Mitch was one of a group of Aboriginal and Torres Strait Islanders who gave a performance at the Vatican Museums in the days leading up to the canonisation, and also played the didgeridoo at the vigil held the evening before the canonisation ceremony.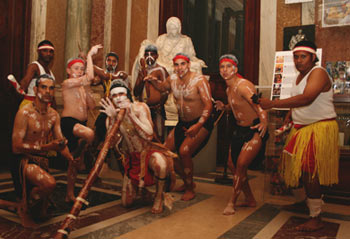 But the highlight of his time in Rome was performing at the Australian Thanksgiving Mass celebrated by the Archbishop of Sydney, Cardinal George Pell at Rome's Basilica of St Paul's Outside-the-Walls and the momentous discovery of the grave of a young Aboriginal boy, Conaci.
At just seven years old, Conaci, which means Black Cockatoo, had left his Perth home in 1849 along with another Aboriginal, John Baptist Dirimera, 11, and sailed for Rome to study to become a Benedictine monk. Bright, curious and committed to his faith, the young boy suffered terrible homesickness and after contracting tuberculosis, tragically died. Until the canonisation, no one was sure where this young Aboriginal had been buried. However just a few hours before the Thanksgiving Mass at St Paul's Outside-the-Walls, an Italian Benedictine told Graeme Mundine he knew where the boy had been interred. Then pointing at a marble slab of the floors of the ancient basilica, he said "this is the spot."
"There were traces of a boomerang etched into the marble and after the Thanksgiving Mass, Graeme cut branches from trees beside the Basilica and said a few words while we all gathered around and I played the didgeridoo," Mitch recalls.
According to Mitch music is an international language and he is eager to play the didgeridoo and perform Aboriginal dances during his time in Madrid. "It is a great honour to be asked to perform and a great way to expose indigenous and non indigenous people to our Aboriginal culture, music and dance, and a great way to tell our stories," he says, explaining that the Aboriginal people have always been storytellers and have always used music and dance to tell those stories.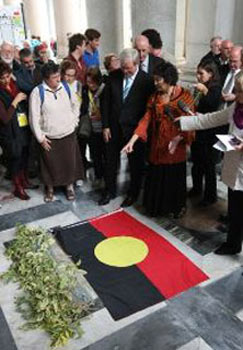 A proud member of the Gomeroi people, who are also known as the Kamilaroi people, Mitch grew up in Tamworth and says his mother was unusual in that, although a Christian with a strong faith, she allowed him to make up his own mind about Catholicism and his beliefs.
"I wasn't baptised as Mum wanted me to have the opportunity to decide for myself something as important as faith. Then two years ago, convinced that this is what I wanted, I was finally baptised in a ceremony that combined the tradition of the Church as well as the tradition of my own people," he says.
A self-taught player of the didgeridoo, Mitch says he first began playing the instrument as a "young fellah" and by the time he was 15 and 16 and "getting really interested in Aboriginal culture and stuff" he decided to learn traditional dances as well.
"Song lines I learned from the people in my community in Tamworth," he explains, adding that these days in between his studies for a degree in social work at Deakin University Geelong he performs at special functions, corporate events and welcome to country ceremonies. Eventually he hopes to work in the field of juvenile justice, but also fully intends to continue performing as an artist, dancer and musician, showing the richness of Australia's Aboriginal and Torres Strait Islander culture.
"I have always had a passion for playing the didge whether on stage or in the comfort of my home - especially the bathroom where the acoustics are great," he says with a grin, before adding how grateful he is at having such a supportive family, "especially my mum."
To find out more about Aboriginal and Torres Strait Islander Sunday which takes place on 3 July at parishes across Australia, and to obtain the liturgy, prayers and resources created for 2011 by the National Aboriginal and Torres Strait Islander Catholic Council log on to www.natsicc.org.au