Prime Minister Gillard Sits Down for Tea With Church Leaders
Catholic Communications, Sydney Archdiocese,
6 Apr 2011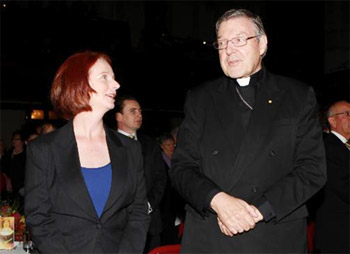 Leaders of Australia's 20 major Christian churches travelled to Parliament House, Canberra on Monday to discuss with Prime Minister Gillard a range of issues including religious freedom and social policies, especially those on the Green's agenda like same-sex marriage and euthanasia.
The Archbishop of Sydney, Cardinal George Pell attended along with leaders of the Anglican, orthodox and evangelical churches.
The PM, who has stated on a number of occasion she is an atheist said she supports traditional values and freedom of religion.
She also repeated to the leaders her personal opposition to same-sex marriage and euthanasia.
Cardinal Pell said the issue of religious freedom was also discussed and he pointed out that people who follow a religion are a clear majority in Australia.
He said;" It is not ideal that religious freedom is protected by so called 'exemptions and exceptions' in anti-discrimination law, almost like reluctant concessions, crumbs from the secularists' table.
"What is need is legislation that embodies and recognises these basic religious freedoms as a human right. As a parallel case, it was readily conceded that the Labour Party should not be forced to employ Liberal staffers."
The Cardinal also asked the Prime Minister to do what she could to protect the rights of religious minorities in Islamic countries.
"The situation of Coptic Christians in Egypt has deteriorated in the last few months and worsened since the revolution. We hope the Foreign Minister will continue to use his influence at the UN and elsewhere on these issues."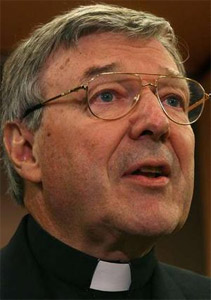 The Prime Minister could possibly have felt very much "at home" during the meeting, having said recently in parliament she can still recite scripture learned at her Baptist Sunday school.
However unlike her challenge to Tony Abbott, and possibly feeling a little less confident in this company, there were no similar challenges for scripture scholar with this group.
Organised by Australian Christian Lobby chief, Jim Wallace, the meeting was friendly and as Cardinal Pell said the PM gave them a "good hearing".
However he said he did not give the Prime Minister the benefit of his thoughts on the Greens.
The PM though has been very vocal with her thoughts recently as she attempts to distance herself from the Greens gospel.
She said recently:"They have intentions but fail to understand the centrepiece of our big picture - the people Labour strives to represent need work. And the Greens will never embrace Labour's delight at sharing the values of everyday Australians, who day after day do the right thing, leading purposeful and dignified lives, driven by love of family and nation."