Outrage at US Style Child Beauty Pageant
Catholic Communications, Sydney Archdiocese,
1 Apr 2011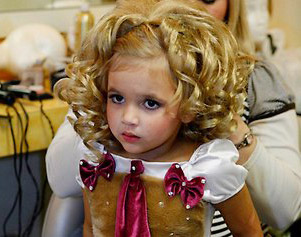 Thousands of Australians from all walks of life hope to prevent a Texas-based child beauty pageant company from importing the same US-style pageants to Australia.
Within hours of an announcement by Annette Hill, founder of America's Universal Royalty Beauty Pageant of her intention to stage a child beauty pageant in Melbourne on 29 July and 30 July this year, national grassroots organisations such as Collective Shout, which battles the sexploitation and adultification of children, voiced their complete displeasure and opposition.
Not only did these groups receive outraged emails from members about the American company's proposal but today, in response to the groundswell of opposition across Australia and supported by child psychologists, behaviourist, and affiliated organisations such as Kids Free 2B Kids and the Australian Childhood Foundation, Collective Shout, they announced a petition calling on the Federal and State Governments to intervene.
The petition will urge Federal Minister of Youth and Early Childhood, Peter Garrett and Victoria's Minister for Children and Early Childhood, Wendy Lovell to intervene to stop the US company and its Australian partner from staging the event in July. Further, the petition will ask them to consider legislative measures to ban all future child beauty pageants.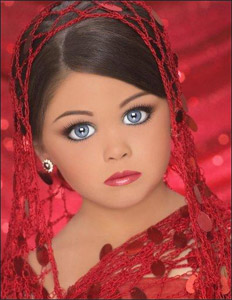 "We don't need toxic US child beauty pageants here where little girls are turned into tarted up dolls in a grotesque parody of mini adults," says Melinda Tankard-Reist, one of the founders of Collective Shout.
The Canberra-based columnist, author, television commentator and tireless advocate against the exploitation of women and girls in today's popular culture, has joined with Care2, the international petition online site which will enable those protesting the introduction of US beauty pageants for children to add their names.
"We're hoping for at least 5000 signatures but with the response received so far it could be double that number," she says adding that the type of child beauty pageants run by Universal Royalty Pageant in the US are not the "confidence builders" as the organisers claim.
"Instead they are about child exploitation," Melinda insists and cites the wealth of research by psychologists and child behaviourists who have found that competing in child beauty pageants is not only against the best interests of healthy child development, but can create long term damage and emotional harm.
"Competing in these events very young children are taught very early that their only value comes from their appearance and the way they look," she says. "This in turn leads to emotional problems, eating disorders and a distorted sense of self worth and self esteem."
"Anyone who saw the American TV documentary, Toddlers and Tiaras will understand how these pageants exploit children," she says.
One of the alarming images of the documentary that has been shown on both free-to-air and pay television was the distraught four-year-old who was forced to endure having her eyebrows waxed, and who screamed in agony throughout the procedure.
Toddlers and Tiaras also documented children as young as three or four years old, decked out in false eyelashes and hair extensions, wearing push-up padded bras as they suggestively wiggled their hips in two piece spangled outfits. There were other little girls wearing fake painted nails, high heels, fishnet stockings and fake tans whose mothers insisted they have botox treatments and who camouflaged any gaps in their teeth by wearing fitted fake whiter than white sets that clipped over the top of their own.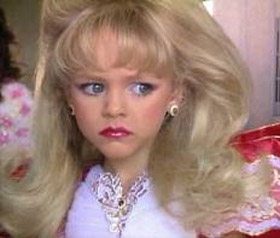 Now Universal Royal Beauty Pageant in conjunction with Melbourne's self-styled online media professional, Kristin Kyle intend to bring the chilling world of US-style child beauty pageants to Australia, with promotions for the Melbourne pageant in July already well underway.
Fees to enter start with a minimum of $295 to cover the actual beauty competition and a series of "modelling and make up workshops." On top of this are optional extras. These include Dressing like a Celebrity, a Photo and Autograph session with American beauty pageant star, five-year-old Eden Wood, fake tanning sessions and other "goodies."
Each of which costs around $50. But this is not the end of it. Instead ambitious parents will outlay thousands more on elaborate custom-designed costumes for their youngsters, weeks of intensive dance and singing lessons as well as professional makeup and hair stylists. All this for children most of whom are under 10.
US beauty pageants are a massive money making business. But for the tiny tot winners of these pageants, the spoils seldom come near to covering the hundreds or thousands of dollars invested. For the Australian pageant in July, the winner's prizes are limited to a lap top computer, a rhinestone crown, an "official supreme royalty banner," a 1.5 metre trophy and a stuffed teddy bear.
While the promoters of Australia's first Universal Royalty Beauty Pageant for children insist the event will foster "a positive fun-filled atmosphere" by encouraging self-confidence, education and "striving to be your very best," this is disputed by experts in child behaviour.
Leading child psychologist and director of Australia's Centre for Child and Family Development, Dr Ruth Schmidt Neven not only strongly disagrees with the organisers' claims but believes pageants such as these transform children into "paedophile fantasies" and should be made illegal.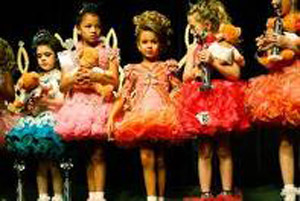 Accusing parents of not only primping but pimping their children by creating mini adults of their daughters, Dr Schmidt Neven would like the UN to look into the issue. "The rights of children are being contravened. Children have a right to be children and that right supersedes the rights of adults," she says.
US beauty pageants for children first gained notoriety in Australia in 1996 with the still unsolved murder of six-year-old American beauty queen, Jon Benet Ramsey. "That's not to say anything like that will or could happen to the children competing in pageants today," Melinda quickly intercedes. "But it should be pause for thought."
Although some believe Australian mothers won't go as far as their American counterparts in preparing their children for the Melbourne pageant, Melinda disagrees and points to a recent episode of A Current Affair where a mother's seven and 11 year old daughters had already had to endure full body waxes as well as botox, and where another mother had spent thousands travelling to the US each year to enter her daughter in pageants there.
In addition t o the petition launched today by Collective Shout to prevent the American-style child pageant taking place in Melbourne in July, Catherine Manning a supporter of Collective Shout and a director of Say No 4 Kids has formed an independent group of concerned Australians who will hold a Pull the Pin (on beauty pageants) rally outside Parliament Houses in each state and territory across Australia on at 12.pm on 3 May.
More information on the rally can be found at www.facebook.com/puillthepinonpageants.
To find out more about Collective Shout and to sign the petition, log on to http://www.thepetitionsite.com/1/Stop-Child-Beauty-Pageants-in-Australia/