Indigenous Catholics Important & Distinct Voice Within the Church
Catholic Communications, Sydney Archdiocese,
14 Apr 2011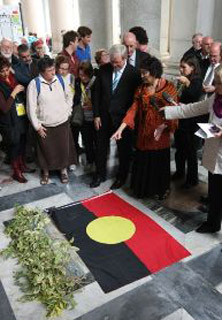 Australia's Indigenous Catholics share much in common with Catholics worldwide and have a vibrant and distinct voice that is unique, and very much their own.
"We are culturally different from other Australians. We didn't come from a culture that came out of Europe. Or even one born in Asia. Instead our culture grew from our ancestors here in Australia among the eucalypts, red earth and deserts," explains Graeme Mundine, respected Aboriginal Elder and Executive Officer for the Archdiocese of Sydney's Aboriginal Catholic Ministry.
Not only is the landscape of Australia vastly different from those in the Northern Hemisphere, but so too are our flora and fauna, he says citing this as one of the reasons Aboriginal and Torres Strait Islanders, when first introduced to the Catholic Church more than 150 years ago, found it difficult to relate to its European symbols and images, such as "the Lamb of God."
"They didn't know what a lamb was. They had no idea. They'd never seen one," he says.
This Graeme says is just one example of some of the differences and occasional confusions experienced by Indigenous people in terms of their faith.
"We are different and at times we think differently and have different views on life. Our people were shaped by deserts and rainforests, seasons of drought and seasons of plenty. We have holy places too, but they are different from European holy places and when we wonder what God is like we think in terms of our landscapes and the animals and creatures we are familiar with."
With a smile he recalls the furore created when one year the Stations of the Cross was interpreted somewhat differently by Australia's first people. Instead of a depiction with Christ surrounded by Northern Hemisphere creatures such as donkeys, cows, lambs or cockerels and hens, He was portrayed against a backdrop of native fauna including kangaroos, emus and several bush turkeys.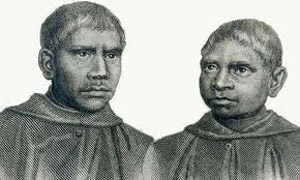 "All these years later we are still grappling with these cultural differences," Graeme says and is convinced of the importance of Indigenous people coming to grips with not only what it means to be Catholic, but what it means to be Catholic and a people whose history and culture is rooted in Australia.
"We are still searching for ways to best express our faith along with our differences," he says.
Catholicism among Australia's Indigenous people began in the early years of the nineteenth century and dates back to the 1830s and 1840s. This strong link between Aboriginal and Torres Strait Islanders and the Catholic Church was emphatically brought home to all Australians during last year's canonisation in Rome of St Mary of the Cross MacKillop.
Mary MacKillop and the Sisters of St Joseph, the Order she co-founded, are much loved by the Aboriginals and Torres Strait Islanders and held in high esteem, giving so many young Indigenous people in remote communities the chance of an education and a future. But what most Indigenous people didn't expect when they headed to Rome last October to join in the canonisation celebrations was to uncover the grave of Francis Xavier Conaci, the young Aboriginal who travelled to Rome in 1849 to train as a Benedictine monk.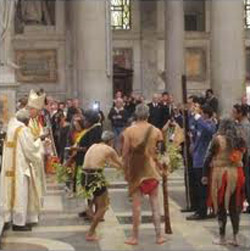 At just 7-years-old, Conaci (which means Black Cockatoo) left his home near Perth with another young Aboriginal, John Baptist Dirimera, 11 and accompanied Rosendo Salvado, the energetic abbot of the Benedictine Monastery at New Norcia. Salvado had evangelised the faith to the West's Aboriginal communities, lived and worked with them and written dictionaries in their language as well as lobbied on their behalf to the colonial authorities.
"The young boys were from the Yuat tribe and they begged Salvado to take them to Rome," Graeme Mundine explains.
Salvado's idea was that the boys would be trained as Benedictine monks and return to their people as missionaries and after their long journey to Rome, the youngsters met Pope Pius IX who presented them with the distinctive black woollen Benedictine, and gave them their Christian names, telling Conaci: "Australia needs a second Francis Xavier; may the Lord bless this boy and make him into one!"
Curious, adaptable and highly intelligent, the boys quickly mastered Latin and excelled in their studies. But being so far from home and in such an alien culture, they were also desperately homesick which the Papal physician believed was the reason for their deteriorating health. Conaci had in fact contracted tuberculosis and in 1853 at age 13, he died in the abbey beside St Paul's Outside the Walls.
Grief-stricken at the loss, Dirimera returned to Australia in 1855, a broken boy. He lived with his people in a hut Salvado constructed for him but never recovered and he too died a short time later.
"These two were not the only young ones sent to Rome," Graeme says citing one young boy who died on the ship en route to Rome and a young girl taken overseas to train as a Sister of Mercy. But she too died and with Conaci's death, a demoralised and saddened, Salvado abandoned his idea of having Aboriginal missionaries working in communities across Australia.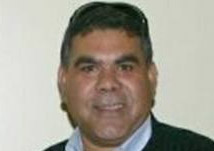 Until last October, Graeme says no one knew where Conaci had been laid to rest. Then just a few hours before the Thanksgiving Mass for 4000 Australians celebrated by the Archbishop of Sydney, Cardinal George Pell at St Paul's Outside the Walls on 18 October, the day after Mary MacKillop's canonisation, the exact burial site was found.
Admired Aboriginal elder, Elsie Heiss, who is also an executive with the Archdiocese's Aboriginal Catholic Ministry and co-ordinator of the Church of Reconciliation at La Perouse, was talking about Conaci with Graeme when a Benedictine monk interrupted them and said he knew where the young boy had been buried.
"This is the spot," he said, pointing to a marble slab on the floor of St Paul's Outside the Walls.
"It turned out Conaci had originally been buried in the basilica near the belltower but after a fire had been moved and now lay under a marble cloister," Graeme says, remembering how he and Elsie crouched to look at the tomb and discovered traces of a boomerang etched into the marble.
A special ceremony was then held after the Thanksgiving Mass with all the Aboriginals and elders who had attended the canonisation. With no eucalyptus trees to use at the ceremony for the Conaci, Graeme cut branches from trees beside the basilica and said a few words which were accompanied by the unique sounds of a didgeridoo played by one of the young people there.
"It was wonderful that we were all together. It was as if the spirit of this young man was saying 'I am here, find me,'" says Elsie and adds that they all experienced the same feeling that a parent experiences when a war hero's unmarked grave is finally found and they can say: "now we know where our son is buried."
This year the Aboriginal Catholic Ministry in Sydney hope to join with other Aboriginal Catholics from across Australia in a pilgrimage to New Norcia and the grave of Conaci's friend and companion, Dirimera.