Life Is Changed Not Ended - for Aboriginal Elder Sylvia Scott
Catholic Communications, Sydney Archdiocese,
22 Feb 2011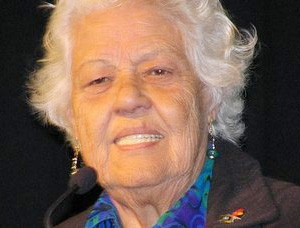 The State Funeral for much loved Aboriginal Elder Sylvia Ingram Scott was certainly different to most.
Around 1500 dignitaries, politicians, community leaders, family, friends and musicians came together at St Mary's Cathedral yesterday to farewell Auntie Sylvia who had passed away aged 83 years.
Auntie Sylvia had fought many battles in her life, with grace and honour, but this last one eventually got the better of her.
A tireless and quietly determined worker for children's health and aged care, Auntie Sylvia had many friends in high places - and some of them were in the Cathedral to hear the many eulogies and tributes.
For those who gathered to remember and mourn one of their dearest, the State Funeral, with its protocol, cameras, screens, audio and government ushers was something very different.
As one close friend sad;"Our mob is not really used to this but she deserved this dignified send off."
The coffin was escorted into the Cathedral by six young traditionally painted dancers, followed by, to the surprise of many, a Scots College boy playing Amazing Grace on the bagpipes.
Father Barry Brundell said the Opening Prayer before Charles "Chicka" Madden came forward for the Welcome to Country.
Sitting in the front pews ,Her Excellency the Governor of NSW, Professor Marie Bashir AC CVO, State Premier Kristina Keneally, taking time out from the election hustings, and various representatives of state and federal politics.
Sylvia was the eldest of eleven and her remaining siblings, six sisters, were there with their families extended families.
Although born on the mission in Cowra, in honour of her decades of work for Sydney's Aboriginal communities, Sylvia became a representative of the Gadigal people of Sydney Cove.
Apart from her work with children and health programs she co-founded the first Aboriginal Community Controlled Aged Care Program, Wyanga.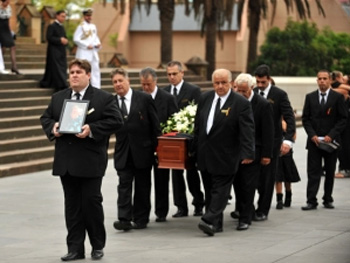 In the first tribute, Governor Bashir, quietly dignified and with very fond memories of Aunt Sylvia, described her as a person of strong character, unswerving integrity and a loving woman of hope and optimism who took many under her wing.
The Governor said; "Her spirit epitomised the great spirit of the Aboriginal people and the spirit of Jesus Christ.
"We share the sense of loss with the family but Sylvia will never be forgotten across our whole land."
It is always hard for a politician to leave their career at the door however Premier Keneally spoke of a woman who was living proof of the maxim "speak your truth quietly and clearly".
The Premier said Sylvia had a gentle manner but strength, passion and fire.
"She was no pushover, she achieved so much," Premier Keneally said. Then speaking as a friend, the controlled delivery faulted, the tears came and the Premier said; Sylvia, we will miss you".
Three eulogies and another tribute and we heard how AuntyieKL Sylvia was dignified and gracious with a big heart but someone who didn't suffer fools gladly.
She helped her people when they were homeless, liberated them from poverty and she could talk to anyone -Royalty or her people on the street. And she did.
She loved to dance, when a little younger - more recently this gave way to cards and the occasional run on the pokies at her RSL.
Michael Donovan sang "The Old Rugged Cross" before a couple more tributes, from the Redfern Community, with a didgeridoo being played softly in the background, and the La Perouse Community.
Following the Gospel Reading, Fr Barry said in his brief Homily many people are grateful for what Sylvia did, what she achieved.
To her family he reassured them.
"For Sylvia life is changed, not ended."