Merry Christmas from Domus Australia in Rome
Catholic Communications, Sydney Archdiocese,
23 Dec 2011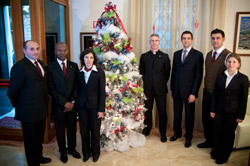 Lots of decorations, last minute shopping and Christmas blessings shared around the world.
Domus Australia, a "Casa per ferie" or centre for Australian tourists and Catholic pilgrims to Rome, is about to celebrate its first Christmas.
Established by the Archdiocese of Sydney together with a number of other Australian dioceses, Domus Australia was officially opened by Pope Benedict XV1 in October.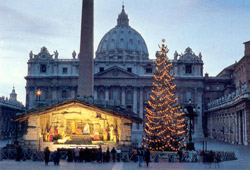 Although the days are now cooler in Rome many tourists like to visit the Eternal City during Christmas to see the giant Christmas Tree in St Peter's Square and attend Midnight Mass at the Basilica.
And the Domus staff are also making a special effort in providing a Christmas welcome.
The General Manager, Gabriel Griffa, and his staff have been decorating Christmas Trees while Fr Anthony Denton has overseen the placement of a beautiful hand-crafted Nativity scene for the centre's chapel.
While Sydneysiders experience warmer - and hopefully drier - weather, Rome temperatures are falling and people are rugging up for the Holy Season but the message of the Birth of Christ is universal.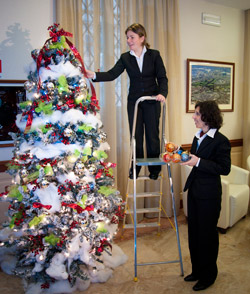 And in Rome at noon on Christmas Day the Holy Father is delivering his Christmas message from the window of his apartment overlooking St Peter's Square while hee in Sydney at noon on Christmas Day many families are preparing to sit down to lunch together.
Some will enjoy the traditional "hot turkey" dinner while others opt for the "prawns on the beach".
Wherever we are and whomever we are with we are encouraged to give thanks for the blessings we have, to think about those doing it tough, the homeless and less fortunate and in the new year consolidate the gains and remedy the defects.