Sydney's Sudanese Community Launches Bus Appeal
Catholic Communications, Sydney Archdiocese,
24 Jun 2010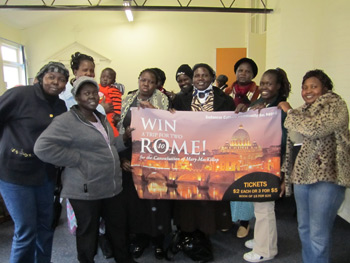 Isolated, often traumatised and struggling to learn a new language as well as new customs and culture, life for Sydney's 3000-strong Sudanese Catholic community is often difficult. But these courageous resilient newcomers to Australia are resolute in their desire to make a better life for themselves and their families.
Proactive and determined, the city's Sudanese Catholic community supported and encouraged by the Archbishop of Sydney, Cardinal George Pell, have embarked on an initiative to raise funds for a 12-seater bus, According to Anna Dimo, who is from the Sudan and has lived in Australia for the past 10 years, and is now one of the tireless and dedicated caseworkers at the St Bakihta Centre at Flemington, the bus would be used to bring members of the community, currently scattered throughout Sydney's west, to Mass each Sunday as well as transport them to the Centre during the week to enable them to access resources, join other housebound mothers and their children and learn English and be with friends.
The bus would not only help prevent young mothers from feeling isolated and alone in their new country, but would give them a sense of independence. In addition the bus would prove a boon to younger members of the Sudanese community, she says, by providing transport for weekend activities and enable youths to take part in camps and bushwalking trips outside of Sydney.
The 12-seater bus would also provide much needed transport for the Sudanese Choir and the newly established Sudanese dance troupe, both of whom get together on a weekly basis to rehearse. The choir, founded less than a year ago, is in increasing demand at churches and functions across the city, as is the enthusiastic talented group of young Sudanese dancers.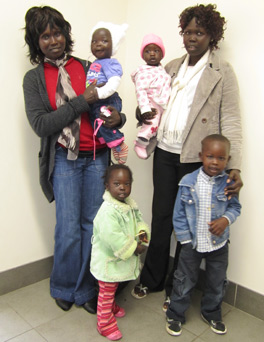 "One of the women we help is 60 and it is hard for her and others like her to manage public transport and attend Mass or make the journey to the Centre," Anna says pointing out that the community is widespread with Sudanese-born singles and families living in Blacktown, Auburn, St Mary's, Toongabbie, Fairfield and other areas in the city's West.
According to Anna, travel on public transport is also difficult for many Sudanese mothers who often have six or seven children. Struggling to get infants and prams up and down stairs at railway stations is a nightmare for them, she says, and a bus would help solve this problem.
For the Sudanese immigrants to Australia, not only is their faith very important too them, but so is is Flemington's St Bakihta Centre where they have the opportunity to meet other arrivals and tap into a variety of resources to find the help they need. This can include advice on how to go about finding a job, enrolling in classes to upgrade their qualifications, finding somewhere affordable to live as well as the chance to attend regular classes in English at the Centre and get the low-down on how to navigate Australia's often complex bureaucracies.
The Centre also offers playschool for children under five, advice on schools for older children and is very much a 'home away from home,' for all members of the community," Anna says.
On any one day, the Centre can have as many as 48 or 50 young children at the Centre's playschool while their mothers spend time in another part of the Centre learning about Australian culture and perfecting their English.
The Archdiocese led by Cardinal Pell has long been an active supporter of the Sydney's Sudanese Catholic Community, and in 2003 Tresa Diing was engaged as the community's fulltime pastoral careworker. The Archdiocese was also instrumental in the establishment of the St Bakihta Centre at Flemington and gave its assistance in 2004 to help Sudanese-Australians raise $270,000. This was then used to provide capital for a unique revolving air fare loan fund which continues to help bring families, relatives and others fleeing persecution from the Sudan, which has been wracked by civil war for the past two decades, to safety in Australia.
Administered by the Archdiocese of Sydney, the Sudanese community funds the loan each month to enable others to be given the same opportunity at freedom they had. In this special arrangement the Archdiocese does not charge any administrative or other services and those fleeing the Sudan for Australia are able to escape the exorbitant 25 percent added interest frequently charged by loan sharks for air fares out of the Sudan.
The Sisters of St Joseph through their Josephite Community Aid are also very active within Sydney's Sudanese community and are enthusiastic about its plans to raise funds and buy their own bus.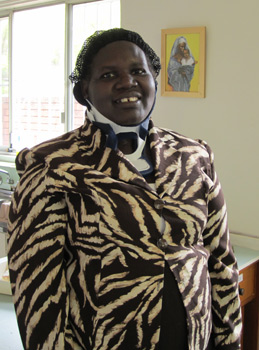 "Our wish is to have a community bus in operation by Christmas. That would be wonderful. But if it takes longer to raise the money, then so be it," Anna says with a smile.
As part of the Sudanese Catholic Community's Bus Appeal, the Archdiocese of Sydney's Fundraising and Appeals Office stepped in to help, and has come up with a fantastic raffle which offers the winner a return trip to Rome for two to attend the canonisation of Mary MacKillop on October 17 along with hotel accommodation, meals and $2000 spending money.
The airfares and hotel accommodation package alone is worth more than $8000 and includes a stay at a central hotel in Rome for eight days and six nights, along with all breakfasts and dinners, and in addition supplies tour guides and two entry passes to St Peter's Square for the canonisation.
Second prize in the raffle is also impressive with the runner up receiving a presentation gift pack of half a dozen bottles of rare Penfolds Wine from the company's much sought-after, limited edition BIN range, valued at $500.
Tickets for the "Win a Trip to Rome" raffle for the Sudanese Catholic Community Bus Appeal cost $2 each or three for $5. To purchase a ticket or tickets, or to order a book of tickets, you can phone in your order using your credit card by calling 02-9390 5924, Alternatively you can log on to www.cwrf.org.au/rome_raffle.shtml and download a ticket order form which can be faxed t o 02 9390 5973. Tickets are also available over the counter between 9 am and 5 pm at Level 11 at the Polding Centre, 133 Liverpool Street in the city's CBD.