Father Bob Sheridan, Parish Priest, Sacred Heart Parish, Blackheath
Catholic Communications, Sydney Archdiocese,
17 Jun 2010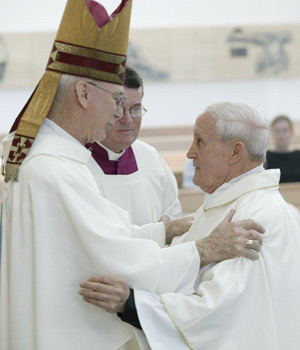 Seventy-five might be the normal retiring age for Catholic priests but at 77, Father Robert Sheridan has no intention of stepping aside. After all, as he's quick to point out, he wasn't ordained until he was 71 and has to make up for lost time.
"My career as a priest is just taking off," he jokes from the Sacred Heart Parish at Blackheath in the Blue Mountains of NSW, where he was appointed parish priest earlier this year.
Father Bob as he is affectionately known, says becoming a priest so late in life not only represents the culmination of a dream but enables him to draw on the rich store of experience he has garnered over the past seven decades.
"All the strands of my life and everything I have learned have come together and are now focused through my priesthood," he says and with a smile, adds that although it took him many years to realise his priestly vocation, he first felt the call when he was still a young man.
"I look back now and can see that God's presence was in me from the time I was very young. It wasn't an overt presence but it was just something I knew was there. But other things intruded and one of those things was Dawn."
Dawn, he explains, was the shy young girl he met on the steam train which took him from the family home at Westmead each morning into Wynyard station from where he'd make his way to Martin Place where he worked in the photographic unit of the PMG on the seventh floor of the old GPO.
"Dawn was always on the train and one morning, I finally got up the courage to say Hello," he remembers. Dawn's response, however, was not at all what he expected, and instead of a friendly Hello in return, she stared at him in horror, blurted "I'm only 17" and took off.
"Well, that was a nice try, I thought," he says laughing. But as luck would have it, it turned out Dawn also worked at the PMG. "She was in accounts in an office on the fourth floor and eventually we met and over the next three years we got to know each other. Then in 1964, not long after her 20th birthday, we married."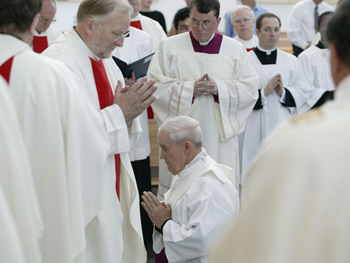 A Hideous Horrible Disease
The couple remained together for the next 33 years. Happily married and devoted to one another, their time together was not without difficulty and considerable hardship.
"In 1972 Dawn was diagnosed with paranoid schizophrenia," Fr Bob remembers, describing the mental illness as a "hideous horrible disease".
"Dawn's parents died in 1968. She was devastated by the loss and I think this may have been the trigger for her illness, and essentially from that time on it was a one-way trip downhill for the rest of her life."
For almost 20 years, Dawn battled both schizophrenia and profound depression. In and out of Sydney's Northside Clinic, she dealt with her illness with courage and determination. But it was an uphill battle.
Determined she should have the best treatment possible, Fr Bob decided to move back to Sydney from the Hunter Valley where they had been living. Setting up house in Emu Plains, he invested in a newsagency in Kent Street in the City and hoped this would not only bring in much needed income but also provide Dawn with an interest.
"She never really accepted or understood what was happening to her, but she fought it all the way. We both did," he says.
But finally it became too much for Dawn and one night when Bob arrived home from the news agency at 8.30 pm he found the screen door ajar, the front door open. Searching through the house he finally found Dawn lying dead on the floor beside the bed. Later, Father Bob would discover she had tried to phone him just before he had left the news agency that night, but she had misdialled one of the digits of the newsagency's number.
"It still breaks my heart that she died alone," he says.
A Return to the Church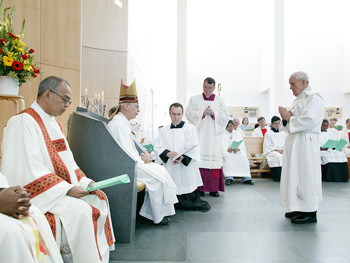 Fr Bob, who still cannot imagine what it was like for Dawn to deal with deep depression 24 hours a day, every day, believes the heavy drug regime she was on eventually killed her.
"Because of the nature of her illness, we didn't socialise or see friends," he says admitting that at the time she died, he hadn't been inside a church in 20 years.
"The newsagency had me working 100 hours a week and whatever time was left over, I spent with Dawn. But that night when I found her, my first thought was to get a priest for her. We were both Catholic and I knew this was important."
Through a friend, Fr Bob contacted Fr Paul Roberts, a local priest and they spent that night praying together. In retrospect, Fr Bob says he can now see the Lord's hand in all that followed, and his decision a couple of days later to receive the Sacrament of Reconciliation and make his first communion in more than two decades.
"From that time on I pretty much went to Mass every day," he says.
With Dawn finally at peace, Fr Bob not only returned to the Church but increasingly became convinced that God was once again calling him to the priesthood.
"The Church says that any widowed man must allow a minimum period of three years before the Church can consider him for entry into the Seminary. I didn't know this at the time, and again I can see the Lord's hand in what followed," he says, recalling how he sold the newsagency in Kent Street and toyed with the idea of taking a campervan on a tour around Australia.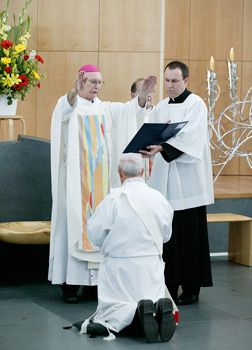 Ordained a Priest at 71
"Dawn's and my idea had been to build up the business and then retire together and be grey nomads. But after Dawn died, even though I bought a campervan, there was no satisfaction in the idea of travelling across the country by myself."
Instead of touring Australia, Fr Bob instead immersed himself in volunteer work for the Emu Plains parish where he lived and also became actively involved with the local St Vincent de Paul's Society.
"Which was when I realised how much need there was not just for physical service but service with a spiritual dimension," he says.
Nevertheless, he admits he was startled when on a drive to Wiseman's Ferry for a social event, parish priest Fr Geoff Dickinson asked if he had ever given any thought to joining the priesthood.
"Hang on, there, I said, and pointed out I was 67 going on 68," Fr Bob recalls.
Fr Geoff didn't bat eye. "The priesthood has nothing to do with age, it's a state of being," he said.
Referred to Fr Chris De Souza, Vocations Director for the Diocese of Parramatta, Fr Bob began his new life as a seminarian at St Mary's Holy Spirit Centre. Then finally, on 9 October 2004, Fr Bob realised his dream and was ordained a priest by Bishop Kevin Manning at St Patrick's Cathedral in Parramatta, the same Cathedral where he had married Dawn 40 years earlier.
"I have been graced in so many ways and believe God was working in me right from the start and that becoming a priest in my 70s was part of his plan, so I could use all my experiences to help others," he says, adding that he first thought of becoming a priest back in the 1950s. "But I hadn't reckoned on Dawn. But it didn't stop me. It just delayed everything by 36 years."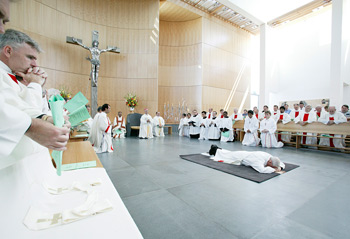 Laughing he proudly announces that he is not only the oldest priest to be ordained in Australia and the oldest ordinate in the Parramatta diocese, but that he is also the "one of the newest and still wet behind the ears."
But no matter what one's age, he urges those who think the Lord is calling them to the priesthood, to give it a try.
"The priesthood is one of the most rewarding vocations anyone can aspire to. If you are a total giver of yourself and are fulfilled by service to others, the priesthood will give you a level of satisfaction you cannot buy. Being a priest fulfills me and brings me great joy. But this hasn't come at the expense of my past life," he insists describing his vocation instead as "the fulfilment of all my past experiences and that includes the love I had and still have for Dawn."
Photography by Hamilton Lund