Fr Paddy Sykes, Senior Chaplain Royal Australian Navy, Command Chaplaincy Centre, HMAS Kuttabul, Potts Point, NSW
Catholic Communications, Sydney Archdiocese,
22 Apr 2010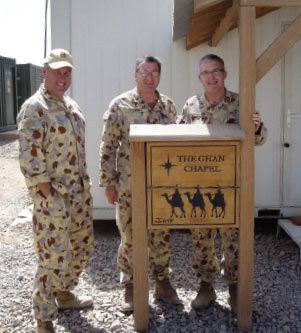 Coming from a non-military background and only recently ordained, Chaplain Paddy Sykes admits he had to struggle to "find something meaningful to say" in 1996 when he was unexpectedly asked to deliver a homily on Anzac Day at Sacred Heart Catholic Church, Griffith where he was serving as assistant priest.
But today, he insists, it would be a different story.
"These days there's no way I'd be stuck for words," he says with a smile.
For the past 11 years, Fr Sykes has served as a Senior Chaplain with the Royal Australian Navy which has included a six month furlough as the Australian Defence Force (ADF) Chaplain in the Middle East, responsible for the pastoral welfare of more than 2300 military personnel serving in Afghanistan, Iraq, Qatar and Kuwait. His ministerial duties range from offering spiritual and religious support to the men and women of our armed services as well as providing counselling, encouragement, a sympathetic ear and a shared camaraderie as well as offering help, support and advice to their families back home.
Although Chaplains in the Australian Army and RAAF are given military ranks, in the Navy the custom is for the Chaplain to take on the rank of whomever the Chaplain is talking to at that time.
"In other words if I am talking to a junior sailor, my rank is as a rating. And if I am talking with a Rear Admiral then I assume the rank of that Rear Admiral," he says, believing this relaxed egalitarianism does make it easier for personnel to approach him and ask for advice or support.
"Everyone knows me as Father, Chaplain or just Paddy," he says.
A Large Percentage of Catholics
Interestingly, although 27 percent of Australia's population are estimated to be Catholic, in the RAN this figure climbs to a whopping 40 percent.
"No one is quite sure why and it would be interesting to do some research into this area," he says but points out that as a Navy Chaplain, his services, pastoral care, support and encouragement are not limited to those who are Catholic but embrace all Navy personnel whether they are Catholics, from other Christian denominations, other faith groups such as Jews or those who have "no religion at all."
"The work of a chaplain is very subtle and often goes unnoticed - which is as it should be," he says, describing his job as one that allows him to reach out to people in a quiet often profound way, building trust while protecting their privacy. His work as chaplain also means exercising his priestly ministry in an area where most of those he serves are young and who often have had no exposure to chaplains or clerics or the power of faith.
Ordained on 16 September 1994 by the then Bishop of Wagga Wagga, Bishop William Brennan, Chaplain Sykes' first appointment was to the Sacred Heart Catholic Church in Griffith.
"I'd done some parish work in West Wagga Wagga Parish before I was ordained and it was during this time, I began to feel very comfortable in what I was doing and knew I had found my right vocation. Not that I was perfect and didn't have room for improvement, but I loved the work of a parish priest and all that entails."
Then in 1998, he received a call from Bishop Brennan.
"It was a Wednesday afternoon and he asked if I would consider becoming a military chaplain. I knew nothing about the military or what being a military chaplain might mean. But at least I knew the military was made up of three different services, so I asked which one needed a chaplain and he said the Navy."
Telling the assistant parish priest he had until Friday to give him an answer, the Bishop ended the call.
"The appointment had to be kept secret until I said yes or no, but I wanted to find out more so I contacted Monsignor Gerry Cudmore whom I knew well and who had been a Military Chaplain for the Army."
The Monsignor, who has since died, joked that if he had his druthers, the young priest would be signing on as a chaplain for the Army not the Navy. "But he also gave me some very sound advice telling me that as a chaplain I would be doing many things I was already doing in the parish such as celebrating the Eucharist and conducting church services along with baptisms and marriages, giving advice and encouragement, visiting the sick and that sort of thing. But he added that as a military chaplain, I would also be doing many unusual things that I would never have been called on to do in a parish."
Ramp Ceremonies Honour the Fallen
It took almost seven months for all the red tape attached to military recruitment to be processed, but on 5 March 1999, Griffith's assistant priest officially became Chaplain Sykes and a member of the Royal Australian Navy.
On loan from the Diocese of Wagga Wagga, he discovered within a short time just how accurate the Monsignor's advice had been and not only continued to carry out much of the work he had known as a parish priest, but found himself officiating in areas that were totally new to him - such as Ramp Ceremonies in Afghanistan.
"There are not many funerals in the military as men and women in the forces tend to leave the services before they die, and for those who die in action, a Ramp Ceremony is held. A Ramp Ceremony takes place when the body is taken from the place where the death occurred. A second Ramp Ceremony is held when the body is then removed from the theatre of war to be flown back to Australia. On landing on home soil, a third Ramp Ceremony is held with their funeral services conducted in their home towns by their own parish priest or minister."
These ceremonies are particularly poignant as the dead are almost always young.
"When people die in uniform they tend to die dramatically in a helicopter crash for instance, or they are shot or killed by a roadside bomb or they die from a car accident or are suicides. The deaths are always sudden and the event affects many people, and frequently young families are left behind. But I am happy to say they are not every day events and occur only rarely."
Nevertheless each death is a tragedy, he says.
Since the ADF joined the Coalition fighting in Afghanistan, 12 Australians have lost their lives, 11 of whom were with the ADF with the 12th was an Australian fighting with the British Armed Forces.
Ministering to Australia's Troops in Iraq and Afghanistan
Having been with the RAN for more than a decade and serving on HMA ships deployed to the Solomon Islands, the Arabian Gulf as well as being aboard ship on visits to Fiji, Singapore, Christmas Island, the Maldives, Goa and New Zealand, Chaplain Sykes had long admired the courage, expertise and professionalism of those in the navy. But he says it was only when he became part of Operation SLIPPER in June 2009, when he was based in the United Arab Emirates as Senior ADF Chaplain in the Middle East, that he gained a real appreciation of the work carried out by members of the other two forces: the Australian Army and the Royal Australian Airforce.
"The posting in the Middle East also gave me a chance to meet with Canadian chaplains and chaplains from other denominations and locations," he says, adding that of all his time abroad, it was the experience of visiting the troops in Afghanistan that stands out the most.
"I really was inspired by the country. It is very beautiful and the Kush mountains are spectacular. But I think we have a huge challenge ahead of us there in terms of the Taliban and so-called winning the war, and also in terms of all the reconstruction that will need to be done. There is also the challenge of keeping defence personnel fresh and ready to continue the work they are doing in a difficult environment and frequently on long deployments."
With his experience in the armed forces, it comes as no surprise to hear that Chaplain Sykes was asked to give the homily at last year's Anzac Eve Solemn Vigil of Remembrance Mass at St Mary's Cathedral and unlike the Anzac Day of 1996, he had no struggle to find the right words to pay tribute to the Fallen and to pray for those who are currently serving in the ADF as well as offering prayers of support to their families.
Referring to what he called "the emotional turbulence of serving overseas" he spoke of the many sacrifices made by the men and women of our fighting forces, and by their families and relatives, and pointed out from Gallipoli on, many who were involved in international conflicts, never came home.
"They were buried overseas," he said and offered a prayer for the "peace we enjoy in our country," warning however that this often came at the highest price.
"Peace is the fruit of hard work and sometimes loss of human life," he told those at the Solemn Vigil Mass, telling the military at the service that "We serve our country" and that "if we follow Jesus, we must be prepared to share his cross."
He Realised his Vocation at age 13
Born in Young, NSW Chaplain Sykes was the eldest of six children and grew up on the family's mixed crop farming property in Humula. Describing his parents as "faith filled Catholics", he says it was after his mother's death and during his second or third year as a boarder at St Ignatius College, Riverview, when he first began to explore the possibility of a priestly vocation.
However, he kept this private and on leaving school at 17, realising he was too young to enter the seminary, he entered St John's College at the University of Sydney and studied economics. On graduation he took a job in Sydney as an accountant and undertook a further course and became a chartered accountant.
But with his strong feeling the priesthood was his vocation, he contacted his spiritual adviser and decided to quit his job and spend the next nine months helping out on the family farm before beginning his studies at the seminary. However when word leaked from the (then) Bishop of Wagga Wagga's Diocese before he had had time to tell his father or family of his plans to enter the priesthood, Chaplain Sykes says he became so annoyed at this invasion of privacy, instead of spending nine months working on the family farm, he remained there for three and a half years.
Returning to Sydney to resume his accountancy career, he realised he was on a treadmill and what he really wanted - and what God wanted for him as well - was to follow his vocation and become a priest.
So at age 28 he finally followed his heart and began seven years of study at Corpus Christi Seminary in Melbourne. Ordained at 35, he spent the next four years as assistant priest in Griffith and was then "loaned" from the Wagga Wagga Diocese to the Catholic Bishop to the Forces, Bishop Max Davies.
Renewing his appointment after his first six years as a Chaplain to the Navy, he is now nearing the end of his second term and in March next year will return to the Wagga Wagga Diocese where after spending time on the family farm, where his father still lives, he will take up his next priestly appointment.
"I used to worry I would be given postings because of my accountancy background, but luckily that has not been the case," he says adding that his work as a priest has far exceeded his expectations.
"And on Anzac Day I will never again be stuck for something to say and the men and women in the forces and their families will continue to inspire me with their courage and the many sacrifices they make not only in times of war but during peace time as well."