Hanging with ySpace
Catholic Communications, Sydney Archdiocese,
29 Mar 2010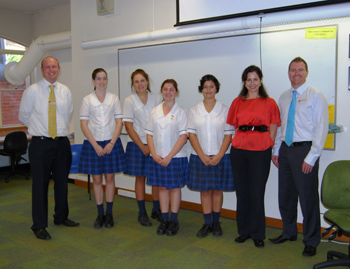 The newsletter's authors are Yr 10-12 students across the Sydney Archdiocese.
"It's bright with lots of pictures and different schools represented," said Steph Russo at the launch.
"I like the 'scrapbook' feel," commented Francis Covel.
"It was refreshing to read a publication for teenagers that uses language teenagers ran relate to," observed Gemma Dimarco.
School Youth Ministry Co-ordinator, Felicity McCallum also approved; "It really is engaging - like a party for your eyes."
Rebecca Siri particularly liked ySpace because it is a vehicle to connect her with other students and young people in other schools and parishes.
"It is great to read about what people our age are doing. Different schools are featured connecting us to what's happening in other schools."
Rebecca also found ySpace "easy to use". Students can peruse the words and images in ySpace and click on the articles they would like to read more about.
Steph Russo especially enjoyed the feature, "Hanging with the Cardinal" highlighting the Cardinal's Pentecost Consultation with school student leaders. "This article made you feel like it would have been good to be there."
The page one feature on the WYD Madrid 2011 itineraries was also a source of excitement for the girls.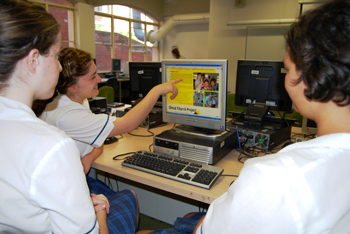 Director of Religious Education and Evangelisation, CEO Sydney, Mr Anthony Cleary said; "This is a wonderful initiative to engage young people more fully in the life of the Church. It is a clear example of what Pope John Paul II was referring to in his call for a New Evangelisation.
" I would like to thank Anthony Munro (Project Officer: eLearning in Religious Education), Anthony Gordon (Archdiocesan Youth Ministry Coordinator) and Sally McDowell (Communications Officer: Design/Marketing) in particular for bringing this to fruition and of course to the students themselves who have made this initiative possible."
"This is an online magazine written by students for students", said Anthony Gordon, Archdiocesan Youth Ministry Coordinator. " ySpace gives our students a vehicle whereby they can share the stories of the all the great things happening across their schools and parishes.
"We want you to send us your stories and photos so that we all can feel more connected."
If you have an activity, event, story or experience from your school or parish that you would like highlighted please send the details and photos to your school Youth Ministry Coordinator or to anthony.gordon@ceosyd.catholic.edu.au.