Lent, Fish and Celebrity Chefs Serve Up $4,500 for the Poor and Hungry
Catholic Communications, Sydney Archdiocese,
23 Feb 2010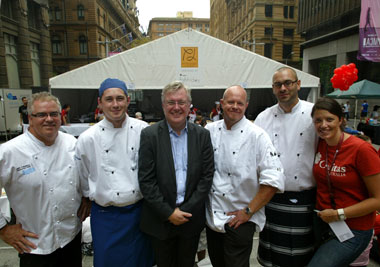 Jeff Turnbull (aqua dining), Max Lukeman (nick's seafood),
Jack De Groot (CEO Caritas), Stewart Wallace (garfish)
and Adam Lord (Coast).
Peter Doyle, owner of the city's exclusive @Quay Restaurant, and a member of the famous seafood family, fed 1000 Sydneysiders a meal of John Dory and salsa in Martin Place on Friday, 19 February, as part of Caritas Australia's Project Compassion, the agency's annual Lenten fund-raiser.
The celebrity chef cooked the meals on site on Friday and helped raise $4000 dollars towards the Caritas appeal. A further $500-plus was raised by four other star chefs from some of Sydney's top seafood restaurants who conducted their own culinary challenge during Friday's lunch hour. Each of the chefs created a gourmet lunch for two using fresh fish and seafood, rice and vegetables which were then put up for auction.
"Fish and rice are the staple foods for most of the world's poor and Fish Friday was a great way to draw attention to world poverty," says Erin Jardine, a member of the communications team.
But with superchefs such as Jeff Turnbull of Aqua Dining, Max Lukeman of Nick's Seafood, Stewart Wallace of Garfish, Adam Lord of Coast and Peter Doyle at the helm, the food served in Martin Place last Friday was a far cry from the meagre fish and rice subsistence diets of millions of impoverished people around the world.
Caritas Australia is part of Caritas International, the Catholic overseas aid agency which provides on the ground aid and development assistance for people in need. In addition to its vital work across the Pacific as well as helping the poor of Africa, South America and Asia, Caritas Australia also helps provide emergency response teams in times of disasters such as Haiti's recent devastating earthquake or last year's tsunami which swamped Samoa and Tonga.
"With the support of those of us who are fortunate enough to live free from conflict, injustice and poverty, Caritas Australia can address issues such as health, education, gender equality, water and sustainable agriculture, all of which are priorities set out in the United Nations back in 2000," says Jack de Groot.
With a target figure of $10 million, this year's Project Compassion raised a further $1175 from its Jazz for Justice concert on Friday evening when Doug Parkinson and Grace Knight entertained 250 ticket holders at an outdoor concert in Martin Place.
Spreading blankets across a specially-turfed area of Martin Place, jazz lovers picnicked while the two veterans performed to loud applause and high praise.
"It was my pleasure to be involved with the campaign and help raise funds," Grace Knight said later. "All I had to do was sing which was a very simple yet profound way for me to contribute to a worthy cause."
On Monday, 22 February, the entertainment and fundraising continued in the heart of Sydney's CBD with a free lunchtime performance in Martin Place by the wildly popular Morganics, the international hip hop artist, performer and director.
"We are thrilled and very grateful to have had people like Morganics, Doug Parkinson, Grace Knight and five of the city's top chefs generously donate their time and talents to support Caritas Australia," CEO Jack de Groot said today.
Project Compassion which will continue its appeal throughout Lent, launched last week with the official opening of Blueprint for a Better World, a multi-media exhibition which aims to end poverty by 2015. Set up under a giant marquee in Martin Place, the exhibition has so far been seen throughout Queensland, Western Australia and parts of Victoria.
The exhibition will close on 25 February when it will travel to regional NSW but Project Compassion, which is now in its 44th year, will continue its fund-raising throughout Lent.
"We have an exciting program of speakers who will visit schools throughout Sydney to talk about the work of Caritas and how we hope to end world poverty," says Erin Jardine.
In addition to the current appeal by Caritas Australia, international Caritas has announced that so far $198 million has been collected from private donors in 40 countries to help the survivors of Haiti's 7.0 earthquake.
In addition another $36 million has been pledged by governments and institutions to the Church's chief aid organisation, says Caritas International's President, Cardinal Oscar Rodriguez Maradiaga.
Since the earthquake virtually destroyed Port-au-Prince, killed more than 200,000 and left many more homeless, Caritas has fed 500,000 people, provided shelter kits for 43,000 and medical treatment for 12,000.
To find out more about the aid organisation www.caritas.org.au.