Deck the Halls - The Priests Are Back
Catholic Communications, Sydney Archdiocese,
20 Dec 2010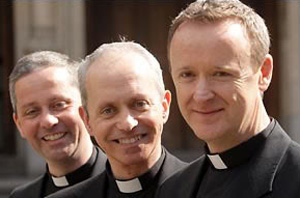 Parishes in Northern Ireland, performing at charity concerts in Stockholm and a new CD rising up the charts in Australia.
Would that be the universal Church? Well it is The Priests at the very least.
And they are the hugely successful singing priests from Ireland, Fr Eugene O'Hagan, his brother Fr Martin and friend from school days, Fr David Delargy.
They have already produced three best selling CDs. The first one, The Priests, included Catholic favourites like Ave Maria and Panis Angelicus.
Soon after this release The Priests came to Australia for one brief concert. It was a great success and featured the guest appearance of Mark Vincent.
For many this was the first time they heard the young student sing and he also has gone from strength to strength.

Their second album Harmony was released last year and now a new one for Christmas, appropriately called Noel.
'This album has many of our favourite Christmas carols we used to sing as children," Fr Eugene O'Hagan said from Stockholm.
"We hope they are still recognisable! Unfortunately we had to cull a few to make sure we didn't have too many and there was a good balance.
"Hopefully people will enjoy them. Many we still sing in our parishes as well."
Fr Eugene, Fr David and Fr Martin have been performing at a couple of big charity concerts in Sweden but have now just returned home to their parishes in Northern Ireland "for one of the busiest times of year".
"The singing and performing is wonderful but we have always said we will not let it take us away from our work in the parishes for long," Fr Eugene said.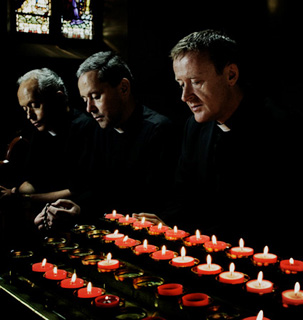 Their day jobs or priestly duties are the priority although there are times when they will have to leave their home town for a concert in another city or even country but be back in time for the weekend.
When they were in Australia they all agreed the decision to commit their talents to a commercial venture was not necessarily automatic.
Fr David, who counts Tina Turner and Sting among his favourite musicians, said," I prayed very long and hard about it before deciding to go ahead."
However it was Pope John Paul 11's decree to spread the gospel in new ways that inspired all three to seize the opportunity.
"Music has always been part of our lives and our missionary work," Fr Martin said.
"Now it is just being expanded to a wider audience."
At first the priests were not sure where proceeds of their music sales should be directed.
They decided on a provident fund for retired priests but then more sales meant more money and ultimately more donations.
Now there are also donations to three education organisations and charities in Uganda, Cambodia and Thailand as well as money for The Homeless, Sight for the Blind and a fledgling choir they are supporting in Belfast.
This week the three priests are back in their parishes with a hectic Christmas schedule ahead of them.
"The lay people in the parish are terrific, very understanding and the women are amazing how they can multi-task - better than us men," Fr Eugene said.
"There will still be a lot to do - decorating for Christmas, school concerts, choir rehearsals. It will be busy."
Normally Fr Eugene and his brother will have a little time to join their family, including their 95 year old father, for lunch or dinner.
However because Christmas falls on Saturday they will be "on call".
"Perhaps Martin and I may have time for a quiet meal together......."
And perhaps a small Irish whiskey and there is a good Christmas CD they could play. They're sure to know the words.