High HSC Scores for Marist College Honour Students
Catholic Communications, Sydney Archdiocese,
15 Dec 2010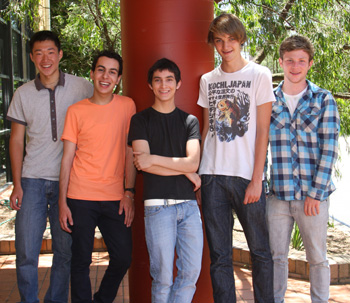 North Sydney Marist College's five honour students for 2010 have lived up to their promise. Each of them has achieved exceptionally high marks in this year's Higher School Certificate (HSC), the results of which were announced by the NSW Board of Studies yesterday morning.
Two of the Year 12 boys, Kieran Gair and Andy Forest achieved scores of 90% or above in more than 10 units and will be among the state's top students to receive the Premier's Award for All Round Excellence.
Both Andy Forest and Kieran Gair achieved scores of 90% or above in more than 10 units in this year's HSC and will be presented with the specially-struck Premier's Award medals by NSW Premier Kristina Keneally in mid-January 2011.
Another three of Marist College's high achievers, Nick Xu, Harry Blain and Rami Ekzahaby also performed extremely well and each achieved a total score or ATAR for all subjects above 90%.
Rami is about to take off to join his family in Egypt but like the other four is delighted he can finally relax and enjoy the summer break, before enrolling at university in 2011 and continuing with his studies.
But you can bet with the results now published online and in newspapers this morning these five students along with thousands of others across the state, will be celebrating and partying, relieved the tense wait for their marks is finally over.
At Marist College the top five honours students are not the only ones celebrating. The staff at the College is also delighted with the results, particularly the fact that 83 students from the school who sat HSC this year, achieved a total of 81 band 6 performances - or scores above 90%. These outstanding results occurred in 18 of the 24 subjects taught at the College with 39% of students achieving at least one band 6 result.
"There were terrific marks in a wide range of subjects with 91 % of our students achieving results in the top two bands," says a delighted Greg Duggan, Director of Teaching and Learning at the College.
The top two bands applies to scores between 80% and 89% (band 5) or 90% or more (band 6).
"The results announced yesterday are a reward for all, and bring great satisfaction to the College community and great outcomes for the students," says Br Peter Corr, Headmaster of Marist College, North Shore, and adds that the high scores are testament to the quality of teaching not only at the College but at Catholic schools across the Sydney Archdiocese.
This year 3912 students from Sydney's 29 systemic Catholic secondary schools sat for their HSC and although results have yet to be analysed and published, they are expected to perform well above the state average over the past five years.
Last year pupils at the city's Catholic schools achieved results above the state mean in 67% of courses, up from 61% the year before. In addition, the number of students from Catholic schools across the state achieving marks above 90% in each of their subjects has doubled over the past five years. Back in 2005, 45 students from Catholic systemic secondary schools in NSW were top all rounders and winners of the Premier's Award for Excellence. But by last year and 2009's HSC this number had increased to 80.
Dr Dan White, executive director of Catholic Schools for the Archdiocese of Sydney, attributes the continued long term improvement in academic achievements at the city's Catholic schools to ongoing investment in the professional development of teachers and measurable literacy and numeracy targets that have helped identify areas of need.
"Our focus has been on continual improvement in teacher quality," Dr White says explaining that the highest priority for the Catholic Education Office (CEO) is to put targeted intervention strategies in place, once a clear need has been identified. "Put simply, we have tried to respond quickly where the need is greatest."
With the results for the super achievers at Marist College North Sydney just the beginning and with more detailed breakdown of results to come, it seems more than likely the high performance of students at diocesan Catholic schools across NSW will continue and surpass even the strong results in the HSC for 2009.