Harbour Bridge Lights Up in Honour of Mary
Catholic Communications, Sydney Archdiocese,
8 Oct 2010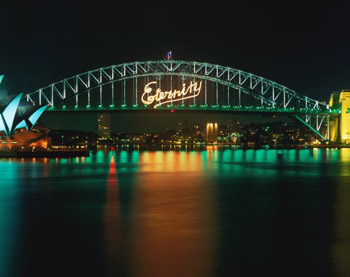 Proving Mary MacKillop is indeed a Saint for all Australians, whether Catholic or non Catholic, the NSW Government will project interchanging images of the nation's first saint on to one of the huge pylons of the Sydney Harbour Bridge.
Announcing this very special tribute by the NSW Government, the Minister for Planning, Tony Kelly announced today that five different rotating images would be emblazoned on the Bridge for a week beginning Monday, 10 October, the day Mary MacKillop will be declared a Saint by Pope Benedict XVI at a canonisation ceremony in Rome.
The images honouring Saint Mary of the Cross will be projected onto the south-east pylon of the Bridge, directly opposite the city's other great icon, the Sydney Opera House.
"We wanted to honour Mary MacKillop's life and works and what she means to all Australians," the Minister said today.
Since the Millennium of January 1, 2000, the Bridge has lit up for significant events beginning with "Eternity" which not only welcomed in the new Century but was used again for the 2000 Olympic Games.
During World Youth Day in Sydney two years ago, the Bridge was also used to celebrate the historic event and pay tribute to the thousands of young people who converged on the city from across Australia and from countries around the world.
Now in October 2010, Saint Mary of the Cross will be celebrated in similar fashion by a fabulous light show display of her image on one of the Bridge's pylons.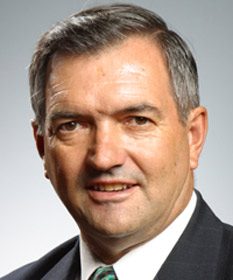 The Minister, Tony Kelly, who will fly out next week to represent the NSW Government at the canonisation ceremony in St Peter's Square in Rome, has also revealed that the Lands Department has uncovered title deeds in its archives signed by Mary MacKillop and these have been put together in a commemorative booklet, which is now available to the public.
As Superior General of the Sisters of St Joseph in Sydney in the late Nineteenth Century, Mary proved herself a shrewd property entrepreneur and invested in several properties on behalf of the Order for schools, orphanages and convents.
"There are records of some iconic Sydney sites, including the Catholic Church on Mount Street, North Sydney, which became the headquarters of the Order and is now home to the Memorial Chapel and Mary's remains," the Minister said.
Of the 29 documents uncovered in the archives, the Old System of Deed records contains 11 with Mary's own signature and a further 18 which were signed on her behalf.
"They show how the Order flourished and grew under her charge," he said adding that the idea to research these deeds came from Lands Department staff.
The booklet, called Mary MacKillop: Records of a Saint is available from the online shop of the NSW Lands and Property Management Authority website at www.lpma.nsw.gov.au. Individual reprints of property deeds signed by Mary are also available online from the Department.