Mary MacKillop - "One Hellava Story"
Catholic Communications, Sydney Archdiocese,
8 Oct 2010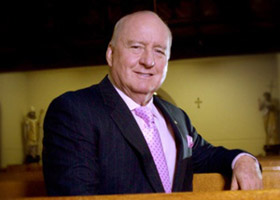 On Sunday, pay TV's History Channel on Foxtel will broadcast the world premiere of "BLESSED MARY: A Saint for all Seasons."
This outstanding special explores the life and times of Mary MacKillop and in the words of Alan Jones, the show's host, "is one hellava story."

Screened at 7.30 pm on 10 October with an encore presentation the following week on 17 October, at the same time to coincide with Mary MacKillop's canonisation in Rome, this ground-breaking production brings Mary MacKillop vividly to life.
With Alan Jones acting as guide, the story traces Mary MacKillop's remarkable life from her childhood in Melbourne when the city had had a population of just 10,000 and Fitzroy, where she was born, was still on the rural outskirts.
The docu-drama then follows her to Penola where she meets the brilliant but eccentric Father Julian Tenison Woods and establishes a school for the children of the poor at a time when education was only available to the wealthy. With Fr Tenison Woods as her spiritual guide, the docu drama then moves on to the founding of the Order of the Sisters of St Joseph of the Sacred Heart, and explores Mary's vocation, her mission and her remarkable achievements not only in education but in all areas of social justice.
Created by acclaimed film and television producer, Michael Tear and his company, Bearcage Productions, this outstanding TV special uses talented actors and superb recreations of Nineteenth Century Australia to give weight and power to the most significant moments in Mary's life.
Interspersed with these dramatisations, are a series of interviews conducted by Alan Jones with a relaxed and erudite, Cardinal George Pell, the Archbishop of Sydney, who not only offers fascinating insights into Mary MacKillop and time and world in which she lived, but discusses what it takes to be declared a saint and the long, rigorous and arduous process demanded by the Holy See before a person can be determined to be a saint.
The TV Special's Appeal Not Just for Catholics
BLESSED MARY: A Saint for All Australians is compelling fascinating action-packed viewing but producer, Michael Tear admits when he received a call from Foxtel's Head of Production shortly after Pope Benedict XVI's announcement of Mary MacKillop's Canonisation, asking if he'd be interesting in making a docu-drama of her life, he hesitated.
Knowing few details about her, he was worried her story would lend itself to dramatic recreation, and more importantly whether it would appeal to a mass audience that would include Catholics and non Catholics alike.
"Of course, I was aware of her and had read many of the news stories leading up to the announcement of her canonisation," Michael says. "But that was about it. So when I was asked if our company would make a docu-drama of her life, my first thought was whether her story would be visually dramatic and whether it would appeal to a mass audience regardless of their faith."
Michael needn't have worried and once the project's writer, Michael Cove came on board and began researching the MacKillop story, the producer quickly realised he had all the ingredients needed for dramatic and compelling viewing.
With full-length feature films, short films and Astra-nominated documentaries for the ABC as well as Foxtel's Biography and History Channels, to his credit, Michael Tear along with Bearcage Productions, the company he founded with award winning director, Serge Ou who also directs the Mary MacKillop docu-drama, were also responsible for the recent TV series As Australian As, which featured legendary Australians such as George Negus, Cathy Freeman, Peter FitzSimmons, Fiona Stanley, John Woods and Alex Perry.
But Michael admits BLESSED MARY: A Saint for All Australians posed a whole new set of challenges.
Unlike Valour, the documentary Bearcage made for the History Channel on Australia's VC winners, while in many cases those awarded the Victoria Cross for outstanding courage were no longer alive, almost always there was someone still alive who had known them or even fought alongside them. There was also extensive documentation of their actions, family stories to explore, letters and and first person accounts available.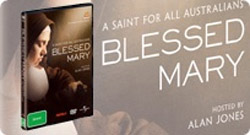 Logie Award Winning Screenwriter Brings Mary Vividly to Life
But Mary MacKillop died 101 years ago and Michael Tear and his team discovered had to rely totally on research and archives not only for facts but to try and piece together not only her achievements but her character and personality so these could be brought to life on screen.
During the three months of pre production, Logie winning-screenwriter, Michael Cove - who has just been awarded a prestigious $45,000 2010 Creative Arts Fellowship - left no stone unturned as he explored archives, historical documents, various biographies written about her as well as letters dating back to the mid 1850s so he could put together a complete picture of Mary MacKillop, her life, the people she was most influenced by and the significant events that shaped her from childhood through to her 20s and 30s and later, into old age.
Having written for a wide range of television productions from All Saints to Blue Heelers as well as the 1970s classic, The Sullivans, writer Michael Cove has created a superb portrait of Mary MacKillop that reveals her grit and determination against the prejudices, poverty and chauvinism of nineteenth century Australia.
With the story unfolding against a time of dynamic change in Australia and in the Church, we learn of her personal tragedies, her conflicts with Bishop Sheil and South Australia's Church hierarchy, and her courage in adversity when a stroke kept her bedridden in the final years of her life.
She Fought for the Rights of All Australians
"Mary MacKillop is a great Australian story," insists producer, Michael Tear. "This is particularly true when her story is put in the context of the times and you consider her constant travels across rural and regional Australia when there was no public transport to speak of and very few roads."
She not only made broad contribution to education, he adds, but despite all her difficulties, which included excommunication, never lost her faith and showed no bitterness or resentment to those who falsely accused her of drunkenness and tried to have her axed from the Church.
"Despite everything that was done to her, she still respected the Bishops as Men of God," he says.
But of all her attributes which included selflessness, determination, her devotion to her faith and to God and her renowned kindness, for the TV special's producer, it is Mary MacKillop's egalitarianism that he finds her most admirable trait.
One story he likes to relate is how in the days when Mary first began establishing free schools for the poor, the Governor of SA wanted his son to be admitted as a pupil, but asked for special treatment for his child.
"Mary told him all children were treated the same way and I think it is this egalitarianism that she espoused throughout her life that makes her a true Australian," he says. "She accepted everyone for what they were making no distinctions no matter what their income, gender, race or background," he says pointing out that egalitarianism is one of the attributes Australians pride themselves on and with Mary MacKillop can see it in action, long before there was a local accent, Aussie slang or the Gallipoli inspired tradition of mateship.
"Mary MacKillop fought against injustice and believed in equity and equality for all," Michael says and hopes audiences will not only find BLESSED MARY: A Saint for All Australians entertaining and exciting, but believes what they will probably celebrate most is how this small but determined woman fought for the rights of all Australians regardless of their faith, wealth, position in society position in society.
BLESSED MARY: A Saint for All Australians premieres on the History Channel at 7.30 pm 10 October, with an encore screening at 7.30 pm 17 October, the day Mary MacKillop is canonised by Pope Benedict XVI in Rome.