Notre Dame Gears up for its Own Mackillop Youth Festival
Catholic Communications, Sydney Archdiocese,
6 Oct 2010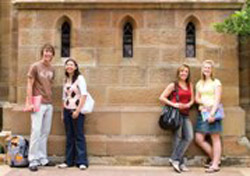 Mary MacKillop is honoured by Catholics and non Catholics alike for her contribution to education as well as her commitment to the training of teachers.
Now as a tribute to Australia's first Saint whom they regard as a continuing inspiration, the students at the University of Notre Dame, Sydney have decided to celebrate her canonisation in their own way with an 10-hour non-stop MacKillop Youth Festival on Tuesday, 12 October.
"Notre Dame has a very strong teaching program and this is a way for students to honour her as well as a way for them to evangelise and celebrate the Catholic faith," says Anusha Jebanasam, a member of the University's library staff and one of the organisers of the Festival.
However the idea for the Festival came from the students not the faculty and originated with the members of Viva, the vibrant, energetic fun-loving group of Notre Dame students who banded together to form an active group on campus to build on the excitement and pride in faith generated by Sydney's World Youth Day two years ago.
Once permission was obtained from the Sisters of St Joseph to hold the MacKillop Youth Festival, planning got underway. The program for the 10-hour celebration next Tuesday includes live music in the campus courtyard as well as Gregorian music inside St Benedict's Church, which is part of the Broadway campus. The day will also feature an exuberant Festival of Life, a Catholic Culture Expo along the lines of WYD08's Vocation Expo, and a detailed display on Mary MacKillop, her life, her vocation and her enduring legacy and include an all day Adoration.
In addition the MacKillop Youth Festival promises stalls with fabulous gourmet food along with cold drinks and free ice cream.
In addition to the fun and exchange of ideas, there will also be time for reflection and prayer with an hour between 3.30 pm and 4 30 pm set aside for Holy Hour which will be followed by a Festival Mass to be held at St Benedict's which will celebrated by the University's chaplain, Fr Vincent Magat OP.
The Festival will then continue and culminate with a twilight dinner and drinks.
While at least a quarter of Notre Dame's 3000 students are expected to attend, many have lectures and classes and will only be able to duck in and out. However the MacKillop Youth Festival is for all young people of faith who would like to honour and celebrate Mary MacKillop and her canonisation on Sunday, 17 October.
The Festival starts at 10 am at the University's Broadway campus. To find out more about the Festival at Notre Dame's Broadway Campus on 12 October, visit Viva Student Group's Facebook Page or log on to www.nd.edu.au/sydney/index.shtml.