Actress Changes Mind About Saints
Catholic Communications, Sydney Archdiocese,
5 Oct 2010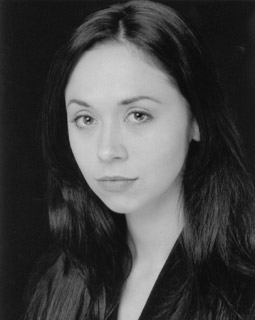 Bubbly extrovert, Octavia Barron Martin admits she grew up thinking saints must be on some other plane.
"I didn't think they'd be like me or anyone I knew, and imagined them up there on some sort of cloud being good and perfect and never having bad thoughts."
But for the Sydney-born actor, musician and star of television and stage, Mary MacKillop changed all that.
"She was very very human and reading her letters to her mother gave me an incredible insight into her life and her personality. The letters are beautiful and very intimate, and give a wonderfully real picture of her along with her awareness of her own flaws and her battle to overcome them," Octavia says.
The realisation Mary MacKillop was very much part of the real world, only added to Octavia's admiration for Australia's first saint, and contributed to her determination to do everything in her power to bring Mary vividly to life in the History Channel's docu-drama, BLESSED MARY: A Saint for All Australians.
Hosted by broadcaster, Alan Jones and including interviews with the Archbishop of Sydney, Cardinal George Pell, BLESSED MARY: A Saint for All Australians has been acclaimed by reviewers in advance previews. Now ordinary Australians will have a chance to see this ground-breaking special when the docu-drama has its world premiere at 7.30 pm on Sunday, 10 October on Foxtel's History Channel.
Compulsory viewing for Catholics and non-Catholics alike, the special which will be repeated on 17 October, the day Mary MacKillop will be canonised by Pope Benedict XVI in Rome and will be available on DVD from 13 October, explores the remarkable often turbulent life of Australia's first saint and her quiet but dogged determination to give the children of the poor a free education at a time when only the wealthy could afford to send their children to school.
With the same commitment and determination, Mary embraced those on society's margins, offering support and hope to the destitute, the vulnerable and those on the margins and in an era when prisoners, poverty-stricken immigrants, former prostitutes and indigent single women were treated as outcasts.
The role of Mary MacKillop which follows her from young woman to old age was both complex and challenging. Which is exactly the sort of role Octavia relishes as an actor. But as filming began, she says the role became much more and she says she found she was inspired by the woman she was playing and that in many ways her life was changed.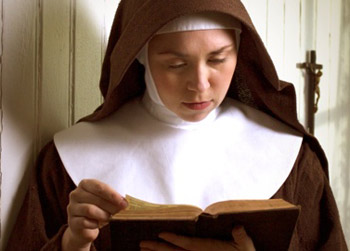 "I think it has made me a softer and better person....at least for a while," she says laughing.
Although Octavia is not a Catholic, she firmly believes Mary MacKillop is an inspiration for all Australians and recounts how a few months before filming began, her beloved grandmother died, and how portraying Mary in the television special and finding out about Mary herself, helped her deal with her grief.
"Grandma was Jewish but she always adored Mary MacKillop. My grandfather was Catholic but my grandmother kept her faith until late in her life when she decided to become a Catholic. I remember in those last years how important her faith was to her, and when we lost her and a Mass was held in her honour, I suddenly realised there was this whole part of her life I'd never really known much about. Grandma left me her Bible and her Rosary which was lovely as they meant so much to her, and I took them with me when I went to Penola to begin filming the story of Mary MacKillop's life and had them with me for the rest of the shoot."
For Octavia, spending time in Penola was important and during the weeks she and the crew and producers spent there, she says she felt very close to Mary MacKillop and to her remarkable achievements.
"Walking around the town of Penola and visiting the little school she founded there, as well as St Joseph's Church and Petticoat Lane - which must be very much as it was when she was there as a young woman - was very very special," she says, and with a smile adds: "What I discovered in Penola as well as later, when we were filming in North Sydney at St Joseph's Convent, was that passersby would see me in brown habit of the Josephites, and approach me to confide all sorts of very personal things. I'd tell them I was only an actor but it was very hard not to be moved by the strength of their faith and I took it as a great honour, and not a Josephite, but each time this happened I felt a momentary glimpse of how important Mary MacKillop was - and continues to be - in so many people's lives."
With leading roles in stage productions such as Little Women: The Musical, Absurd Person Singular at the Ensemble Theatre and TV shows from All Saints to a starring role in Who Killed Dr Bogle and Mrs Chandler which aired on the ABC as well as on PayTV, Octavia's acting talents as well as her close resemblance to Mary MacKillop made her a perfect choice for the History Channel Special.
Trained at the West Australian Academy of Performing Arts, which counts superstar Hugh Jackman among its alumni, Sydney-born Octavia graduated with a BA in Music Theatre. "The WAAPA is the only place you can study musical theatre in Australia and musicals are my passion," she says, revealing that before taking up acting as a career, she was a student at Sydney's Conservatorium.
One day she admits she would love to be cast in a blockbuster musical but she being given roles such as Mary MacKillop are also creatively fulfilling, she insists, not only giving her a chance to learn about a remarkable Australian but to challenge her as an actress.
"I wanted to get across how strong she was and full of purpose but also how she never harboured any bitterness towards those who wronged her, including the manipulative priest and bishop who had her ex-communicated. I wanted her to come across as a real person that people can identify with as well as regard with the reverence and love she deserves."
Octavia says another challenge was the accent. "She wasn't born in Scotland but growing up, there would not have been any Australian accent as such and surrounded by family and Scottish parents, she would have spoken with a soft Scottish burr."
On 10 October, Octavia intends to watch the television special on the History Channel and on 17 October says she will be like the rest of Australia and spending the evening with friends watching the live telecast from Rome and the canonisation of St Mary of the Cross.
BLESSED MARY: A Saint for All Australians will premiere at 7.30 pm, 10 October on the History Channel on Foxtel with an encore presentation on Sunday, 17 October at 7.30 pm shortly before the live telecast of the canonisation of Mary MacKillop.
Exclusive to the History Channel, the DVD of BLESSED MARY: A Saint for All Australians will be available from Wednesday, 13 October at major outlets as well as from the Mustard Seed Bookshop, Lidcombe, Australia Post, Woolworths, Big W and Mary MacKillop Place.