"Looking for Mary" Winners
Catholic Communications, Sydney Archdiocese,
1 Oct 2010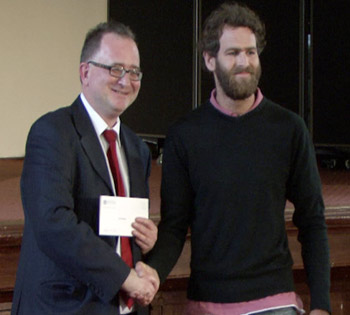 Filmed and produced by Kieran Williams, the short video clip titled "Suffering With A Smile", won the $5,000 first prize in the competition run by the Sisters of St Joseph Youth Committee, xt3.com and sponsored by the University of Notre Dame.
Ten finalists, family, friends and some of the judges gathered at Notre Dame for the announcement by the university's Deputy Vice Chancellor, Hayden Ramsay.
The national video competition was seen as a means to help young people engage in the reality of the life of Australia's first saint.
The videos looked at how Mary might be and react in today's society. Some showed her as an example in contemporary youth culture while others featured a mix of people talking about what Mary MacKillop meant to them.
Judges included Tim Pocock from X:Men Origins:Wolverine; musician and songwriter Gary Pinto; lecturer in cinema and theology Fr Richard Leonard; Sr Pat Malone; Gerry Turcotte, Dean of Arts and Sciences, Notre Dame and Dr Anita Heiss, Sydney writer and poet.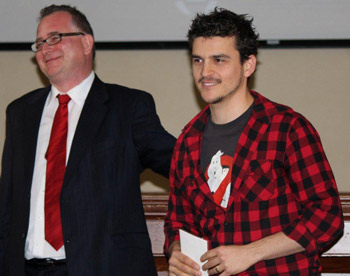 Runner up was called " Mary of the Cross" and was filmed and produced by Alfio Jr Stuto.
Alfio was remembered by many at the presentation, including the co-ordinator of Sydney's World Youth Day, Bishop Anthony Fisher OP, as Jesus in the brilliant " Stations of the Cross".
The second prize was $2,000.
And third prize, a lap-top computer, went to Thomas Ricciardiello and Anh Ngugen for "Seeing a Need".
In presenting the prizes Hayden Ramsay said Mary MacKillop had Scottish blood, raised in Australia and had a Catholic soul.
He said after viewing the entries he was most impressed by the way all the young cinematographers understood Mary's message.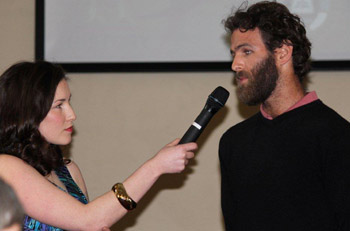 The national video competition was seen as a means to help young people engage in the reality of the life of Australia's first saint
In explaining his inspiration for his winning film, Kieran said; "I wanted to look at one aspect of Mary's life that made a saint and then I reflected on people in my own life who I believed lived a saintly life.
Someone who came to mind was a young boy I went to schoo,l with Daniel Khoury, and in my mind he certainly was a saint. He endured a lot of suffering towards the end of his life and he was very positive and would never let it get him down, he was selfless. When I was researching Mary MacKillop's life there was obviously a lot of suffering in her own story and despite this suffering she remained positive, selfless and determined I wanted to highlight the link there and that's what I tried to do in the film."
Kieran's film also features some soft, original music.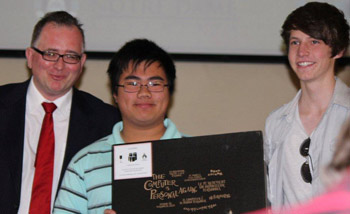 "Well I am not a musical person and I had hoped to have a friend compose for me but he was away at the time so I sat down at the piano but I can only play basic stuff .So I asked Daniel if he could please help me to come up with something and those were the notes and the music that came to me and it actually worked quite well , but as I said I am not that musical and I put the success of it down to Daniel."
The gathering also saw what their amateur efforts could lead to with a preview of the all- Australian "Blessed Mary: A Saint for all Australians", which is narrated by Alan Jones and to be shown on the History Channel on 10 October.
And all the finalists didn't go home empty handed. In a surprise and very generous presentation, Kyle Patterson, representing ANZ Stadium gave each finalist a double pass to see Ben Hur: The Spectacle later this month.