A Saint who is One of Our Own
Catholic Communications, Sydney Archdiocese,
19 Oct 2010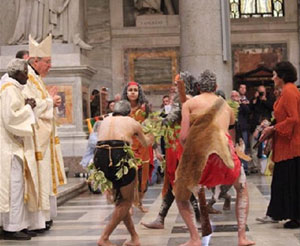 The canonisation of Mary MacKillop is an occasion for Catholic rejoicing, the Archbishop of Sydney, Cardinal George Pell told the congregation of more than 4000 pilgrims, Sisters of St Joseph and Australian dignitaries at the Thanksgiving Mass held at Rome's historic Papal Basilica, St Paul's Outside-the-Walls yesterday.
The Thanksgiving Mass celebrated by Cardinal Pell marked an end to the official celebrations for Australia's first saint.
Among official delegates and diplomats who attended were Australia's Ambassador to the Holy See, Tim Fischer, Foreign Minister, Kevin Rudd, Deputy Leader of the Opposition, Julie Bishop and Leader of the Nationals, Senator Barnaby Joyce. Also there were more than 150 Sisters of St Joseph, the Order co-founded by St Mary of the Cross, together with Australian Aboriginal elders and young people, and thousands of joyous pilgrims of all ages and all walks of life.
The Mass began with an Aboriginal welcome but although the majority of those attending the Thanksgiving Mass were Australian, there was also an enthusiastic contingent from New Zealand as well as and Sisters of St Joseph from the Order's communities in Peru, Ireland, East Timor, Scotland and Brazil.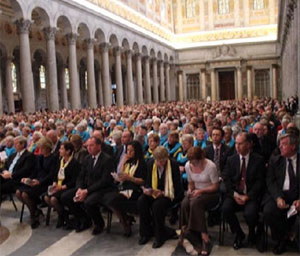 In his homily, Cardinal Pell described the Fitzroy-born saint as "one of us, a child of a free and open society." Citing Colonial Governor Lachlan Macquarie as the creator of Australia's egalitarian society where everyone had a right to a "fair go," he said Mary had made great use of the opportunities offered by such a society to bring God's love and help to others.
"Her voice was an Australian voice, the voice of a great woman all Australians can recognise as one of their own. But her example and teachings - about forgiveness, about resisting hardness of heart, and about working to overcome evil, refusing to be disheartened or defeated by it - speak to women and men well beyond our shores and in all ages," he said. "Australia is not a perfect place, but the blessing God has bestowed upon us, have been blessings in abundance. Now he has raised up from among us St Mary of the Cross as our first saint."
The canonisation of Mary MacKillop in Rome by Pope Benedict XVI on Sunday, 17 October as St Mary of the Cross represented the first time an Australian-born saint had been declared in the two thousand year history of the Catholic Church.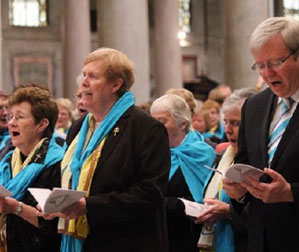 "We are delighted and grateful," the Cardinal said.
For the full text of Cardinal Pell's homily which he delivered yesterday at Rome's Papal Basilica, St Paul's Outside-the-Walls click here.