Cardinal Welcomes Canberra Delegation to Rome for Canonisation
Catholic Communications, Sydney Archdiocese,
18 Oct 2010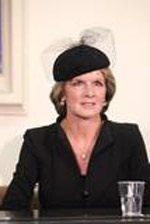 On the eve of the canonisation of Australia's first saint, the Archbishop of Sydney, Cardinal George Pell said he was not surprised at Canberra sending an official delegation from both sides of Parliament for the historic event.
Among the politicians in Rome for yesterday's canonisation of Mary MacKillop by Pope Benedict XVI in St Peter's Square were the Foreign Minister and former PM, Kevin Rudd, Deputy Leader of the Opposition, Julie Bishop, Nationals leader, Senator Barnaby Joyce and NSW Minister for Planning, Lands and Infrastructure, Tony Kelly.
Cardinal Pell pointed out that not only was Mary MacKillop a saint for all Australians, but said the Catholic Church in Australia was very much part of the fabric of Australian life. Approximately one in five children across the national were educated at Catholic schools, with Catholic hospitals caring for one in ten as well providing 10 percent of aged care to the country's elderly and infirm. In addition Catholics were responsible for a large number of the country's welfare agencies, and overseas aid organisations, he said.
But for many politicians, the homage to Saint Mary of the Cross was not only recognition of the wide and vital role played by the Catholic Church in Australia, and by Mary MacKillop herself, but as Cardinal Pell pointed out, they also wanted to pay tribute to the canonisation and what it meant on a personal level.
The Premier of NSW, Kristina Keneally and Leader of the Opposition, Tony Abbott both attended Mary MacKillop Memorial Chapel at North Sydney yesterday to pray and give thanks. Another who kept a prayer vigil at the chapel in honour of the canonisation was the Governor of NSW Maria Bashir.
"There is a quality to Mary MacKillop that appeals to Australians whether they happen to be Catholic or not, or for that matter, whether they are religious or not," said Kevin Rudd as he officially opened what was dubbed Una Notte Australiana at the Vatican Museum where 300 artefacts collected by missionaries for an exhibition commissioned by Pope Pius IX in 1925 went on display.
"There is much about Mary MacKillop from her compassion ,courage, determination, enterprise and her faith - which is still capable of lighting a flame of inspiration in the cynical age in which we live," the Foreign Minister said.