Sisters of St Joseph say Thank You
Catholic Communications, Sydney Archdiocese,
18 Oct 2010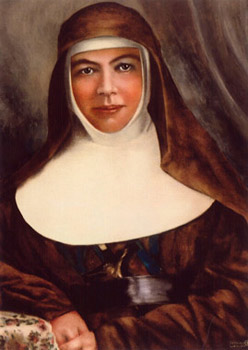 The Sisters of St Joseph have issued a special thankyou to Australia and the world for the wonderful outpouring of love and enthusiastic support for the canonisation of their co-founder Mary MacKillop.
"We are so appreciative of the countless small towns and communities that held their own celebrations," said Acting Secretary General of the Sisters of St Joseph, Sr Monica Cavanagh today. "Many of the towns where these celebrations have taken place are towns where Sisters of St Joseph have worked in the past or where they are still working."
Sr Cavanagh as with those in the cities, the Sisters wherever they work are supported by local people who like them have been inspired by Mary MacKillop and her life and legacy.
Although in future she will be officially known as Saint Mary of the Cross MacKillop, Sr Cavanagh said most Australians will probably refer to her simply as Saint Mary MacKillop. "And if people simply call her Mary MacKillop none of us will mind. And I'm sure she wouldn't mind a bit either," she added with a smile.
While more than 8000 pilgrims travelled to Rome for the historic canonisation ceremony which took place yesterday, many more thousands celebrated Australia's first saint at parishes, churches, schools and local halls across the country.
"Many of our sisters themselves come from regional communities and the bonds are very strong," she said.
While Saint Mary MacKillop co-founded the Congregation of the Sisters of St Joseph with just a handful of devout young women in the tiny town of Penola in South Australia, today the Josephite community is global with Sisters of St Joseph carrying out missions in New Zealand, East Timor, Peru, Ireland, Scotland and Brazil.
Among the more than 15,000 people who visited Mary MacKillop Place in North Sydney yesterday, the mother house of the Sisters of St Joseph, many were from other faiths including Muslims, Hindus while some had no faith at all. But whatever their faith or lack of it, all wanted to pay tribute to the strong, determined and egalitarian woman whom Pope Benedict XVI yesterday declared a saint.
"She is an inspiration for everyone," Sr Cavangah said and called yesterday's canonisation a truly global event.