Pope Receives Gifts from Sisters of St Joseph in Lead Up to Canonisation
Catholic Communications, Sydney Archdiocese,
14 Oct 2010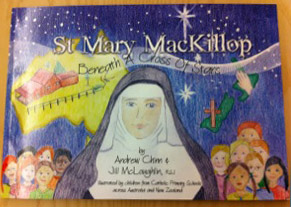 Sister Anne Derwin, Congregational Leader of the Sisters of St Joseph and Sr Eileen Lenihan, Assistant Congregational Leader presented Pope Benedict XVI with two commemorative gifts of their founder, Mary MacKillop, at a Papal Audience in Rome's St Peter's Square yesterday.
One of the gifts was a small engraved medallion featuring a portrait of Australia's first saint with a map of Australia etched on its reverse. The other gift, a book entitled "Beneath a Cross of Stars" was compiled by children in Australia and New Zealand and filled with stories they had written, drawings and paintings they had created along with personal hand-written messages.
"It was wonderful to speak with the Holy Father as Mary (MacKillop) had done when she was in Rome almost 100 years ago," said Sr Anne and added that Pone Benedict XVI had been particularly pleased to receive the children's special messages.
The Pontiff told the Sisters he was excited for Australia as the country prepares to celebrate its first saint.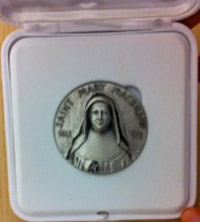 For the Sisters and their fellow Josephites who have travelled to Rome from Australia for the canonisation of their founder, being in St Peter's Square yesterday for the general Papal audience is a memory they will cherish.
"Being in Rome and meeting with the Holy Father only days away from Mary's canonisation is a real privilege and honour," Sr Anne said.
Also at yesterday's general audience and received by the Holy Father was nine-year-old Sophie Delezio. Her parents Ron Delezio and Carolyn Martin have long believed Sophie's remarkable recovery from two life-threatening car accidents was due to the intercession of Mary MacKillop. Convinced their daughter's survival is a true miracle, the family have made the journey to Rome for the canonisation and like so many other pilgrims, will use this historic occasion to celebrate the legacy of Australia's first saint and to offer prayers of thanks.
Severely injured as a two year old, Sophie received burns to 85 percent of her body after a car crashed into her kindergarten trapping her under the vehicle. No one thought she'd survive such terrible burns but with courage and strength she began the long road to recovery. But three years later in 2006 she was involved in another car crash and suffered multiple fractures including head injuries after the vehicle struck her on a pedestrian crossing as she was being pushed in her wheelchair across the road.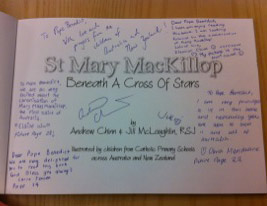 Young Sophie had a front row seat at yesterday's Papal audience in Rome, proudly sitting beside her mother Carolyn Martin as the Holy Father passed through a packed St Peter's Square. For the little girl, this marked the second time she had met the Holy Father and received the Pontiff's blessing.
In July 2008, during World Youth Day in Sydney, she and her elder brother Mitchell were received by Pope Benedict. Sophie and her family were seated on the stage when Benedict XVI celebrated Mass for the World Youth Day volunteers at the Domain, and afterwards were greeted by Holy Father who shook hands with the little girl and then gave her and Mitchell his blessing.