Singing Priests Compose Christmas Classic
Catholic Communications, Sydney Archdiocese,
22 Dec 2009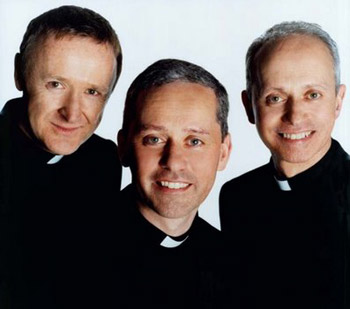 The Priests, the three Irish clerics who have taken the music industry by storm, are also composers and in a labour of love have set the words of St Colmcille to music.
The result is King of Kings, one of the tracks on their latest album, Harmony and a song that is now destined to become a favourite worldwide.
"We wanted to use St Colmcille's words but to do this we had to create the music against which the words could be sung," says Fr Martin O'Hagan, who sat down with his elder brother, Fr Eugene O'Hagan and Fr David Delargy, their friend since childhood in the group's first ever attempt as composers.
St Colmcille who lived between 521 and 597 AD, is one of Ireland's foremost Saints. A native of County Donegal, he was related to the Kings of Ulster and founded the monastery on Island of Iona where he famously introduced Christianity to the Picts.
The Irish Saint is beloved by those of the Emerald Isle his humility, devotion to God and his compassion as well as for his writings and poetry. His paean to the Island of Iona is still quoted as are many of his other works. This was why The Priests wanted to include his words as part of their latest album.
"King of Kings is the first music the three of us have composed but we hope to do more of this in the future," says Fr Martin who describes the song as "full of hope."
"I think it fits very nicely with the other songs," he says of Harmony, The Priests' second album, which was released in late November and has shot up music charts worldwide.
As with the first self-titled album which launched 12 months ago, Harmony contains liturgical and religious classics such as Amazing Grace, Silent Night, The Lord's Prayer, Ave Verum and the Te Deum.
"We had to learn the Te Deum by Hayden as this was not a piece we have sung before, but it has long been one of our favourites," Fr Martin explains.
Speaking from his home in the Parish of Cushenden in the Diocese of County Down and Connor in an exclusive interview, Fr Martin said he had just returned from Stockholm where The Priests were presented with a Gold Record for sales of their new album.
"We were only away for a day but it was a big thrill," he says.
Having broken all records with their first album, titled simply The Priests, followed by huge sales of the CD of their live concert at Belfast's Armagh Cathedral, the three Northern Irishmen are now receiving platinum and gold albums for Harmony.
Where to put the awards remains a problem for the three humble Northern Irish priests who each live in small houses within their Parish. "I'll maybe keep one or two in my private room upstairs and worry about the rest later," says Fr Martin whose is currently in temporary dwellings while his parish house undergoes repairs.
As with parish priests across Australia, Fr Martin is in the midst of Christmas preparations. "We have the nativity play on at one of our parish schools this week and another one next week," he says. "There are also penitential services across the Parish and then of course Midnight Mass on Christmas Eve and Mass on Christmas Day."
However once he has celebrated Mass on Christmas Day in Cushenden, Fr Martin will head for the town of Derry and the family home where his father still lives.
"My mother sadly is no longer with us but my brothers and sisters all come together for a family Christmas dinner with my Dad," he says.
Not only will Fr Martin's elder brother and fellow member of the group, Fr Eugene be there along with Fr Martin 's twin sister.
"There are two sets of twins in our family so our mother had her work cut out for her," he laughs describing how as a young woman she used to push a pram filled with four babies around the village of Claudy where the family then lived.
"My sister and I arrived followed a short time later by another set of twins!" he says.
The family remains close knit and according to Fr Martin, his dad Francis O'Hagan is delighted at his sons' success in the music world.
"He has great fun watching us on television and asking who we have met and what they were like," he says. "But our sadness is that our mother is not here to share this with us. She would have been over the moon and I am sure much of our success has to do with her pulling a few strings up there in heaven."
Although The Priests' have clocked up sales in the millions and also made millions of dollars, they refuse to cash in on their success as performers and recording artists. Instead they have set up a trust fund and all monies they earn from their albums and concerts will go to charities of their choice.
"We want to help the poor and the homeless and vulnerable, whether they are of the faith or not, and are thrilled that we are have been given the means to do this and to make a difference," Fr Martin O'Hagan says.